Challenge has lauded star Bomber Jake Stringer for his remarkable support and commitment to bringing joy into the lives of young families living with cancer.
Stringer makes weekly visits to the Royal Children's Hospital, making a special effort on his own accord to spend time and build strong and meaningful relationships with brave children battling cancer.
"It just started with a small conversation with my manager Paul Connors and (Challenge CEO David Rogers) when I first came to Essendon and I knew that Essendon and Challenge had a strong relationship," Stringer said at the Challenge Family Centre.
"It just started off with a couple of hospital visits about a year and a half ago and I'm still here, still loving every bit of it and trying to get in weekly to try to put a couple of smiles on little kids' faces."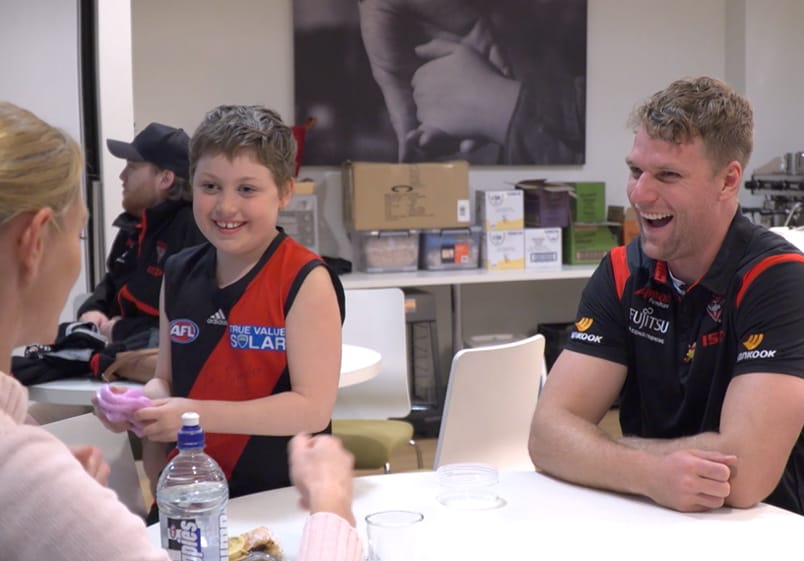 The nature of the tough journey for the kids hits home for Stringer, who has two young children, and his regular visits have become a real passion in his life.
"Having two little kids myself gives a good perspective on life, so I'm really enjoying my time and coming down here and enjoying the playfulness of the kids, and all of the cheeky little comments I get along the way, it's really good.
"It really warms the heart and it's something I'm very passionate about. I'm pretty sure I'll do this for the rest of my career and hopefully a little bit after as well."
Challenge communications manager Simon Waring was full of praise for Stringer, whose genuine care for the kids and their families is clear to see in his visits.
"It's extraordinary to see the time and the effort that Jake puts into our families," Waring said.
"When you actually have an AFL player who walks in your room and knows you and acknowledges you, those are priceless moments.
"And what we've seen is Jake's made such a commitment to come in over not just a few weeks or a few months, but we're talking regularly over the last two years, and he's beginning to see certain families that he recognises.
"It just lightens the room when he walks in."
Club community manager Bernard Shepheard echoed Challenge's praise and said Stringer's dedication to Challenge is the most genuine community commitment he has ever seen from an individual in the AFL.
"Jake's done a huge amount of work with Challenge directly," Shepheard said.
"The most unique thing about that is it's really been off Jake's own interest to be involved, that's not something the club has asked him to do specifically.
"(He has been) coming out here weekly for the last two years and developing some really authentic relationships with the kids, so it's a real credit to him."
Stringer will wear a special pair of boots when the Bombers take on North Melbourne in the Tackling Childhood Cancer game on Friday.
The unique boots will then be auctioned off alongside five match day guernseys worn by Dyson Heppell, Anthony McDonald-Tipungwuti, Dylan Shiel, Zach Merrett and Andrew McGrath.