Tuth Jok was born more than 12,000km away from Melbourne, but on Friday he lived out a dream when he ran out in the red and black at the heart of the city.
The first-year Bomber – born in Nasir, South Sudan – was impressive in his senior debut against Collingwood at the MCG, handling the pressurised environment coolly in front of 85,405 passionate fans.
Jok's brother Tot was full of pride for his older sibling speaking before the game on Friday, expecting Jok to take the occasion in his stride.
"I couldn't be any more proud of what he's done," he said.
"Especially to see him come all this way from where we were born, all the way up here playing in the AFL for Essendon, it's great.
"I reckon he'll handle it pretty well. He won't be fazed by the crowd.
"Knowing him, he'll play great."
Go get 'em, Jokky #AFLPiesDons pic.twitter.com/FcGUVHqPL7

— Essendon FC (@essendonfc) August 23, 2019
Jok claimed 12 disposals and five marks – including a towering contested mark to intercept a Magpie attack in the third term – in the 11-point loss, displaying his exceptional endurance in running a game-high 15.5km (900m further than the next best).
While disappointed with the narrow loss, Jok said both he and the team will take confidence out of the gritty effort against the in-form Magpies.
"It felt like a dream to be honest," Jok said after the game.
"I was a bit disappointed with the result, but it's something I can take confidence from and something the team can take confidence from; we played a top-four team and we took them to the edge."
It was a fast start for Jok, who found the Sherrin in his hands in the opening minute of the match, and he said finding the ball early helped settle his nerves.
Soon after, the debutant found himself standing next to Collingwood star Scott Pendlebury on the wing, but he said he never felt overawed by the occasion.
"(Getting an early touch) helped a lot, I think (I tried to) make quick decisions, get the ball on and then play footy from there.
"(Pendlebury) gave me a quick pep talk, congratulated me and then I just knew it was business from then on. I didn't get overawed by that.
"I felt like I adapted well to (the speed of the game), I didn't find it too quick or anything. If anything, I think I just make quicker decisions at this level."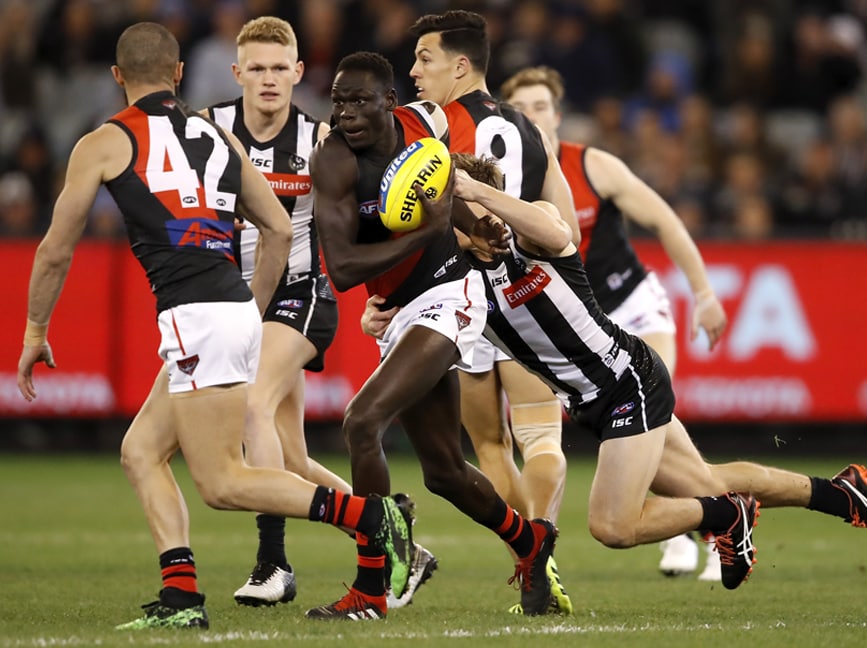 Jok assesses his options as he shrugs a tackle against the Magpies. (Image: AFL Photos)
Jok said his style and position help him thrive when the Bombers are at their speedy, counter-attacking best, which the side showed in its scintillating six-goal opening term.
"I think playing on the wing suits that style and having the endurance that I've got, it can play to my (strengths).
"When we were attacking, we looked very dangerous and we were a great."
There was plenty of support for Jok whenever he gained possession and he said it "felt good" to have the red and black fans behind him.
But his biggest supporters were his family and friends, and he was thrilled to share the special moment with them all.
"It's a true blessing, it's great support that I have," he said.
"This is an even bigger dream for them than it is for me, I'm just happy to fulfil mine to fulfil theirs at the same time."