Essendon VFL head coach Dan Jordan says he is confident with his side ahead of Saturday's qualifying final against Richmond at the Swinburne Centre.
Despite having to deal with a number of changes due to injury or AFL selection this past month, Jordan believes the group is ready for Saturday's task.
"It's always a challenge when you're playing with 30% of your side different from the previous week – I think we've had a minimum of six or seven changes (these past few weeks)," Jordan said.
"Having said that, I'm really confident with the side we'll roll out on Saturday. They've all played with each other before, so should be fairly comfortable and have that trust and synchronicity."
The VFL Dons have lost their past two meetings against the Tigers in close contests, but Jordan believes if they can bring their best footy, they are every chance of beating them.
"We probably haven't been in the best form this past month, but thankfully given some of our earlier form in the year, we've put ourselves in the situation where we've got a double chance.
"We know we're really going to have to bring our best footy to be in the game, and if we can do that we might potentially give ourselves a bit of an edge (over Richmond).
"The two times we've played Richmond this season have been two really tight games, and two great contests so I would expect nothing different from the boys on the weekend."
Heath Hocking assesses his options against the Tigers in round eight. (Image: AFL Photos)
Having taken the VFL Bombers to a preliminary final in his first season at the helm last year, Jordan said the preparation leading into Saturday has been different.
"Last year, we sort of fell into the finals in the last round, so we went out with a mentality that we've got nothing to lose and we might as well have a crack.
"We were quite confident our best footy was good enough, and we've still got that same confidence this year. It's just a matter of being able to bring it, and playing a brand of footy that we think can stand up in finals."
In that finals series last year, it was Essendon who ended Richmond's hopes of a Grand Final berth, when they knocked the minor premiers out in a five-point semi-final upset.
Jordan is aware Richmond probably hasn't let that one go.
"We got (the Tigers) in finals last year and I'm sure they are keen to atone for that, and they've been a really strong, consistent side all year. There's a reason why they finished on top of the ladder and only lost a couple of games.
"We want to go right out and try and win this game and see if we can progress through to the preliminary final, but the main thing will be about our guys competing and bringing that mindset to be able to raise their game for finals-like pressure."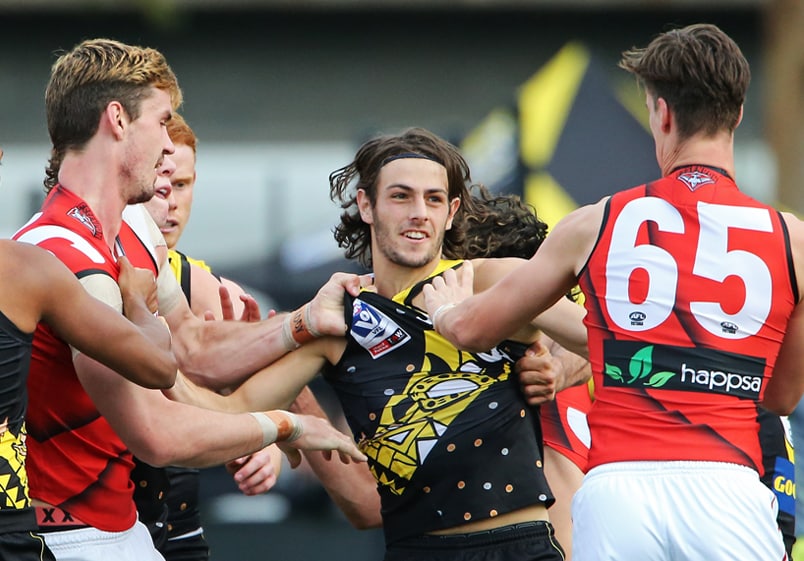 Dan Jordan is expecting another tough contest against the Tigers. (Image: AFL Photos)
While just nine players from last year's semi-final have been selected in the squad for this weekend, Jordan said there's a sense of belief among the group.
"There's a few on our VFL list who were here last year and know what it takes, and similarly there's a couple of AFL guys who were as well so given that, there's a bit of confidence and expectation they can perform well on the big stage.
"We've prepared all year for this time of the season so we'll go all out on Saturday – there are some things that we've done differently over the last month to prepare ourselves for this so we'll just give it our best shot.
"If that's not good enough, then we'll walk off and be proud of the effort that we've put in."
Essendon will face Richmond from 2:10pm on Saturday at the Swinburne Centre.
Brooke Varney is in the final year of her Bachelor of Communications (Journalism) degree at RMIT University. As part of their strategic partnership, Essendon Football Club and RMIT University are committed to providing opportunities for students, staff, players and the wider community.