Essendon VFL senior coach Dan Jordan evaluates how the 11 AFL-listed Dons fared in Saturday's two-goal loss to Richmond.
12. Mark Baguley
Stats: 13 disposals, two tackles, three inside 50s
From the coach: 'Bags' played forward with a few minutes inside and played his role well, which was a bit of a selfless one. He didn't hit the scoreboard this week, but he was consistent with his output, his setting up and his defensive pressure.
14. Jordan Ridley
Stats: 25 disposals, 10 marks, four tackles, eight rebound 50s
From the coach: It was great to see 'Rids' find some footy again. We shifted him back into a half-back role, and he looked a lot more comfortable down there. He got a lot of the ball and had 20 kicks along with 10 marks. I thought his marking was back to where we knew it could be. He'll get a lot of confidence out of the game.
15. Jayden Laverde
Stats: 11 disposals, six marks, two inside 50s, one goal
From the coach: Jayden was our primary target up forward. Structurally he was really good for us, competed well and brought the ball to ground. He battled away, often outnumbered by Richmond opponents, and managed to kick a nice goal from a big mark. Even though it wasn't a big game looking at his possessions, he competed hard and that was really important for us.
16. Josh Begley
Stats: 10 disposals, two tackles, four inside 50s, one goal
From the coach: Josh played a high half-forward role and did well to get up and down the ground. He connected well defensively and had four inside 50s, but probably didn't get his hands on the ball as much as he would have liked. Despite that, he was still strong and willing in the contest, and finished off with a goal in the third quarter. I thought he still impacted the game even though the stats sheet doesn't reflect that.

Josh Begley (right) celebrates his goal against the Tigers. (Photo: Ben Johnstone)
22. Irving Mosquito
Stats: 13 disposals, four marks, three clearances, five inside 50s, one goal
From the coach: 'Mozzie' fleeted in and out of the game. When he was in, he was really intense with some good run-down tackles and put the pressure on. He also kicked a nice goal when he was forward, and gave us a fair bit through the mid-arc region. Unfortunately he suffered an injury late in the game so we'll get that assessed, but in his second week back he was building into some better form.
23. David Myers
Stats: 31 disposals, four tackles, nine clearances, six inside 50s, one goal
From the coach: It was another consistent game from Dave. He won a lot of the ball inside and hit the scoreboard with a goal. It was a solid inside-midfielder's game, and he really drove the standards around the ball all day for our young group.
24. Jordan Houlahan
Stats: 12 disposals, four marks, three tackles, two goals
From the coach: 'Houlas' had a really good game defensively. While he's not a high-possession winner, what he did on the weekend in terms of his pressure was really good. He had four or five smothers for the day, three tackles and also kicked two nice goals from a couple of big grabs, so that's a good impact from him.
34. Jake Long
Stats: 19 disposals (13 contested), four tackles, six clearances, three rebound 50s
From the coach: 'Longy' brought a really good intensity and was communicating really well. He looked to be on top of his game and had six clearances after spending some time in the middle, which was a great effort. I thought his defensive work was first-class – he was hard at the contest and was tackling and smothering effectively. I was really pleased with his game.
39. Trent Mynott
Stats: 19 disposals, five tackles, five clearances, three inside 50s, one goal
From the coach: Trent had another consistent game inside. He was playing through the middle for about half the time and had 19 possessions, and then kicked a goal with some forward minutes. He's contributing with some good form at the moment and this will be a great platform for him to keep building on moving into the back part of the year.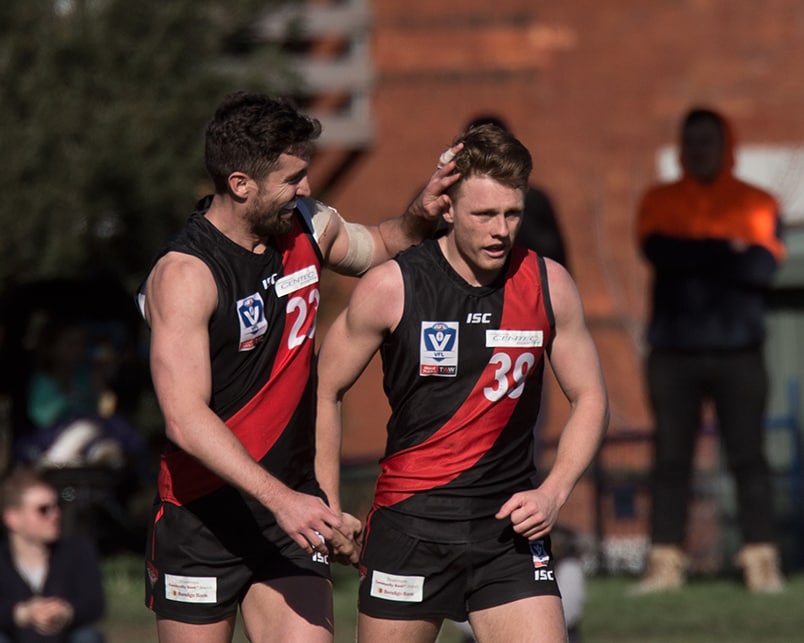 David Myers gets around Trent Mynott during Saturday's clash. (Photo: Ben Johnstone)
46. Tom Jok
Stats: 18 disposals, four marks, two inside 50s
From the coach: 'Jokky' played in that outside role and helped us out in the ruck a bit as well. I thought some of his running and transition work was good. It's not easy playing on that fat-side role, but he had 18 possessions and a couple of inside 50s. He gave us some run and got out of the stoppages, and was also good defensively when we needed him.
49. Matt Dea
Stats: Eight disposals, three tackles, seven spoils, three rebound 50s
From the coach: Matty was really strong in setting up our back six, who were quite inexperienced this week. He took it upon himself to help set them up and I thought he did that extremely well. He had some big spoils too, and although he didn't get a lot of the ball, he defended really well and was great in leading our other defenders down there.