The Bombers will be fuelled by some of the best coffee beans in the country, with Map Coffee by Tata Global Beverages signing as an official partner of the club until at least the end of 2020.

Through the new partnership, Map Coffee will provide coffee and Tetley tea products across the club's venues, including The Hangar and Windy Hill, as well as the Melton Social Club.
Essendon chief executive officer Xavier Campbell welcomed Map Coffee to the club, saying the new partnership was a perfect blend between organisations.
"We are delighted to welcome Map Coffee to our organisation through this partnership," Campbell said.
"Tata Global Beverages is an internationally successful, values-driven organisation that is focused on health and wellbeing through its products, as well as its people.
"As a community-focused organisation, Map Coffee's values align strongly with the Essendon Football Club."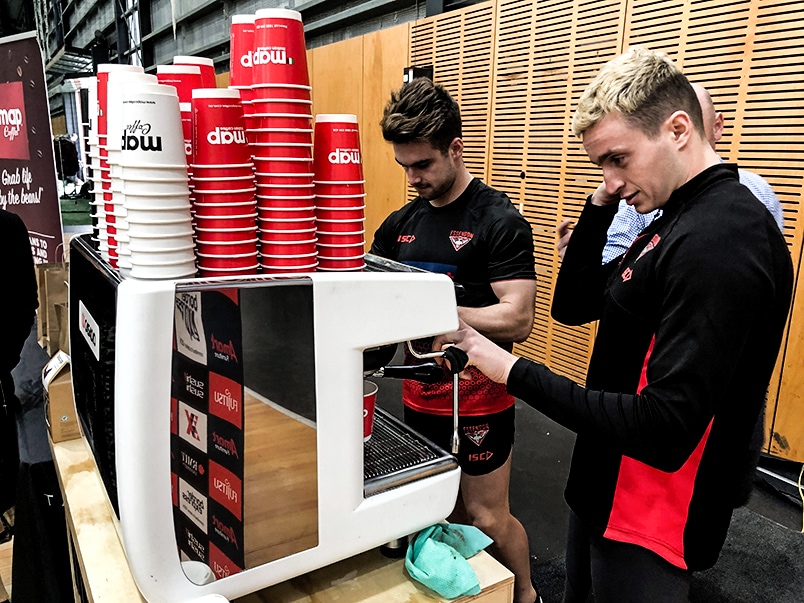 Will Snelling and Orazio Fantasia enjoy a Map Coffee brew before training.
Tata Beverage Solutions director Gale McLardie said the company was honoured to partner with the Bombers.
"Tata Beverage Solutions, through the Map Coffee and Tetley Tea brands, are proud to be part of the Essendon family," McLardie said.
"We are committed to growing our relationship with this great club whilst supporting healthy, active lifestyles.
"This is a valued partnership because both Map Coffee and the Bombers are driven to succeed through unwavering passion, commitment to high standards and a shared sense of community."
If you need delicious coffee at work like we have at The Hangar, give Map Coffee a call on 1300 239 438 or visit them online.