First-year Bomber Brayden Ham says Essendon VFL coach Dan Jordan has helped with his transition into playing senior football.
Taken with pick No.72 in last year's national draft, the former Geelong Falcon featured in five AFL matches and 13 VFL matches this season, including the preliminary final loss to Williamstown at the weekend.
Having spent the majority of the year playing under 'DJ' (Dan Jordan), Ham said he'd been "awesome to have as a mentor".
"It's pretty hard coming out of under-18s footy and straight into senior footy, but DJ has been that one to give me a whole lot of pointers and a whole lot to learn off," he said.
"He's a great bloke that I can approach whenever. It's the same with all the coaches - they've been fantastic."
From his 11 disposals on Sunday, Ham managed six marks and two majors, one of which he delivered on the half-time siren to give the group some momentum heading into the second half at Adcon Stadium.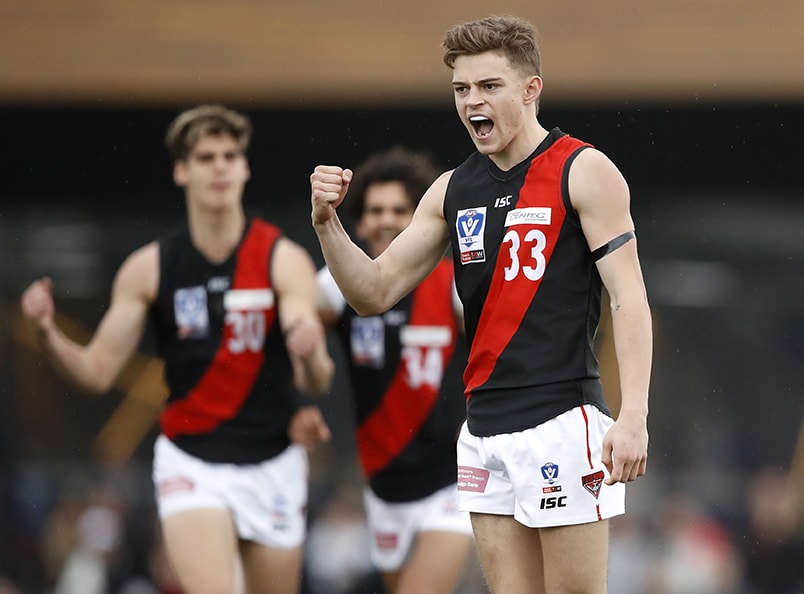 Brayden Ham celebrates his goal against Williamstown. (Photo: AFL Photos)
"I probably haven't played VFL for four or five weeks, so in the first quarter I was just trying to get back into it and get into the right spots. In the second quarter it came to me a bit and then I was able to go from there.
"(After that goal) we were all heading into half-time really excited, and thought we were going to run over the top because we thought we were the fitter side, so it was a bit unfortunate we weren't able to put out what we wanted to in that second half.
"It was my first VFL final (against) blokes who have done it 13/14 years in a row – obviously it's disappointing to go out on a note like that, but we'll obviously bounce back next year and hope to bring it in 2020."
The 20-year-old also learnt a lot from playing alongside retirees Matt Dea, Mark Baguley, David Myers and vice-captain Heath Hocking, and looks forward to seeing who steps up to fill the voids.
"They've been awesome. They're really experienced heads and you can learn a lot of them. You just listen to anything they say," Ham said.
"We've got a couple of older boys coming through now as well, so hopefully we can keep a few and go from there.
"We've got a long way to go, but we'll hopefully be back roaring next year."