Essendon's inaugural team in the Victorian Wheelchair Football League has been confirmed ahead of the first season of Australian Rules' newest state-wide competition.
Louis Rowe (captain), Miranda Charlton, Roy Davie, Ben Milton, Damon Craig, Caleb Logan, William Taylor and James Leonard received their playing jerseys at The Hangar ahead of their round one clash with Collingwood on Sunday.
Rowe was confined to a wheelchair after a scooter accident in Thailand in 2007 and has gone on to play in the Victorian team at the State of Origin.
"I'm pretty nervous coming up to the first game," the 32-year old said.
"It's certainly exciting to come up against Collingwood in the first game and see how good we are and what's going to happen.
"We're a quick team, so we're going to use our speed and handball," says Rowe.
"Obviously, we'd love to take it out and win the granny. I think we're good enough to be up there."
The inaugural VWFL season is a five-team competition including Collingwood, St Kilda, Richmond and Hawthorn across 10 rounds with the top two teams playing off for the flag.
Wheelchair football has rules adjusted to accommodate players of all abilities. The five-a-side, 10-minute quarter format is played on a basketball court.
Kicking is not allowed, with handballs acting as kicks and underarm throws the equivalent of a handball.
The field is divided into three zones with midfielders able to move around all areas of the court, but defenders and forwards restricted to their starting zones and the midfield.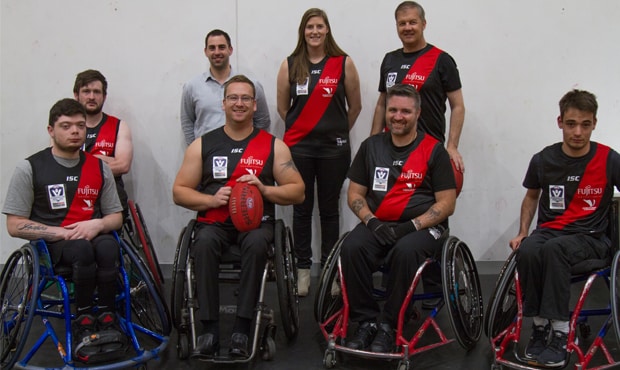 Front: Caleb Logan (#5), Louis Rowe (#24), Roy Davie (#45), Ben Milton (#43)
Back: William Taylor (#4), James Leonard (#9), Miranda Charlton (#10), Damon Craig (#11)