Essendon last week journeyed to the Tiwi Islands as it continues to deepen its connection with the remote Tiwi communities.
Located 80km north of Darwin across the Arafura Sea, the footy-mad Tiwi Islands have produced some of the AFL's most talented players past and present, including Essendon greats Michael Long and Dean Rioli, star forward Anthony McDonald-Tipungwuti and recent premiership players Daniel Rioli, Willie Rioli and Cyril Rioli.
More than a third of Tiwi's 2,600 population plays footy, which is said to be the country's highest participation rate.
The Bombers, who have the Tiwi Islands as one of their Next Generation Academy zones, have supported the islands for 12 years, providing pathways for AFL hopefuls, sponsoring the Tiwi Bombers and helping to improve social outcomes in the communities. 
In what has become a rite of passage for Essendon's newcomers, first-year players Irving Mosquito and Noah Gown joined Jake Stringer on this year's trip, along with VFLW trio Brendan Major (coach), Courtney Ugle (captain) and Ally Anderson, and club staff Harmit Singh (academies manager), Bernard Shepheard (community manager and VFLW assistant coach) and Darren Harris (general manager of community, academies and women's football development).
Over four days, the group visited schools, scouted talent, attended a Tiwi Islands Football League game and entered the Tiwi Bombers' inner sanctum during their clash with Wanderers at Darwin's TIO Stadium on Saturday night.
Below is a selection of images from the trip, along with the stories behind them.

Jake Stringer arrives at Wurrumiyanga, a tiny community on the southern coast of Bathurst Island, Tiwi Islands. Over the course of 10 minutes, at least 100 gather around him - men, women, boys, girls and babies supporting various AFL teams - as word quickly spreads. Even the local police pull over for a photo and a chat. (Photo: Essendon FC)

(Left to right) Ally Anderson, Bernard Shepheard, Courtney Ugle and Brendan Major arrive at Xavier Catholic College in Wurrumiyanga - Anthony McDonald-Tipungwuti's old school - where they'll spend a few hours putting young female footballers through their paces and scouting new talent. Jake Stringer, Irving Mosquito and Noah Gown have also come along to help out. In the same talent identification session last year, Tiwi trio Freda Puruntatameri, Rina Moreen and Jess Stassi were recruited, each impressing in several games for Essendon VFLW in 2019. (Photo: Essendon FC)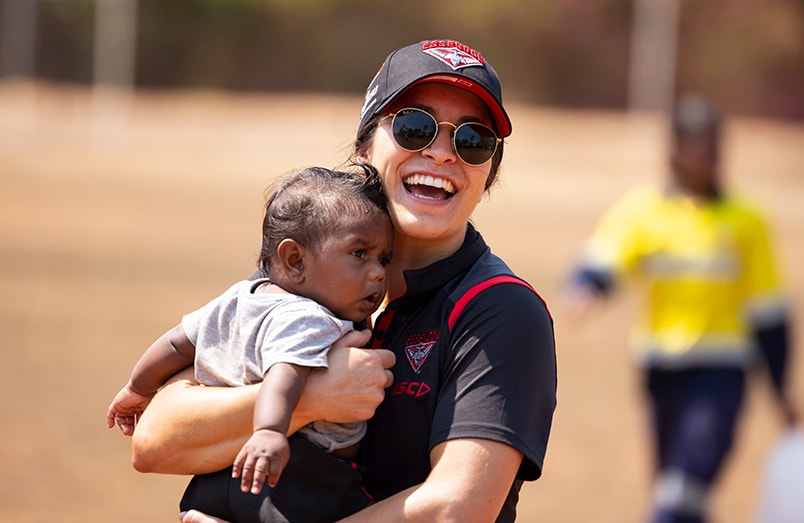 Ally Anderson meets a young Essendon fan during the talent identification session. Anderson, 25, is an AFLW All Australian and best and fairest winner with the Brisbane Lions, who spent winter playing for the VFLW Bombers. While she was born and raised near Brisbane's CBD, her Aboriginal father grew up in the tiny community of Theodore, west of Rockhampton. It's her first time on the Tiwi Islands, and she's passionate about learning more about what it means to be Aboriginal and re-connecting with her roots. (Photo: Essendon FC)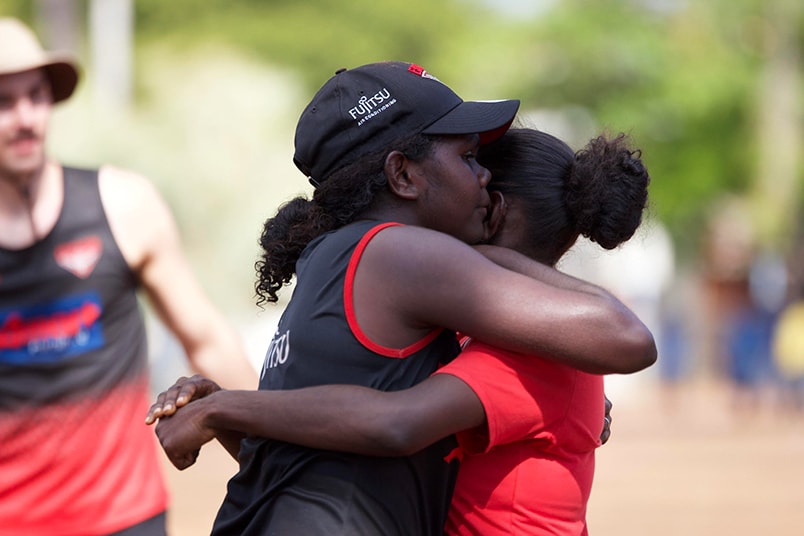 Freda Puruntatameri (left) embraces a fellow Tiwi Islander, who is determined to impress during the talent identification session. Freda is from Melville Island and was scouted by the Bombers last year. She's returned to the Tiwi Islands during the off-season. (Photo: Essendon FC)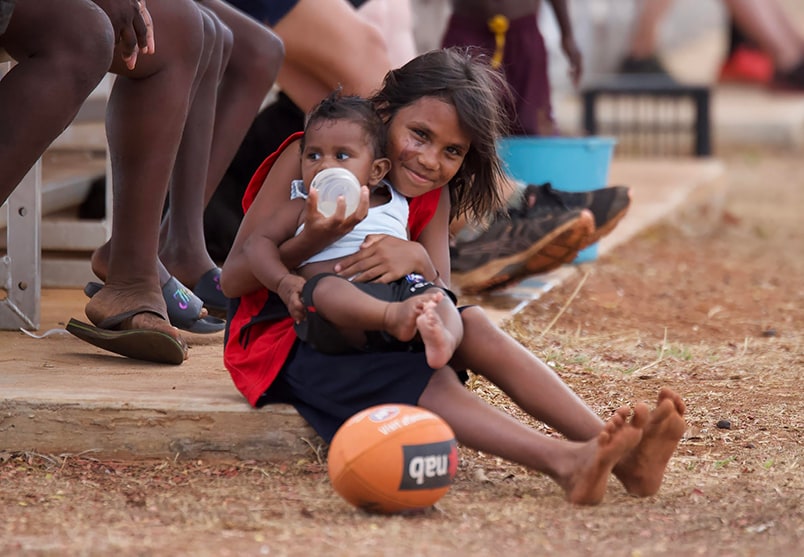 In Aboriginal families, many young females are responsible for helping to raise kids. This can make it difficult for those wanting to move away from home to pursue footy careers, and is something Essendon's VFLW recruiters take into consideration. (Photo: Essendon FC)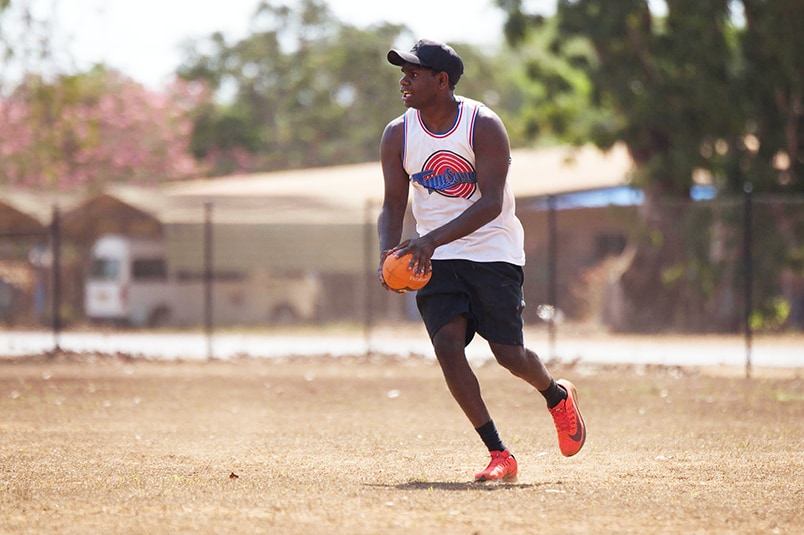 Irving Mosquito has a kick on the red dirt, as the mercury reaches a steamy 35C. Though he's not from the Tiwi Islands, he grew up in similar conditions in Halls Creek - a remote town in the East Kimberley region of Western Australia - before moving to Gippsland at the age of 11. 'Mozzie' came close to an AFL debut in 2019, named as an emergency in the round 11 win over Carlton, before succumbing to hamstring injuries. (Photo: Essendon FC)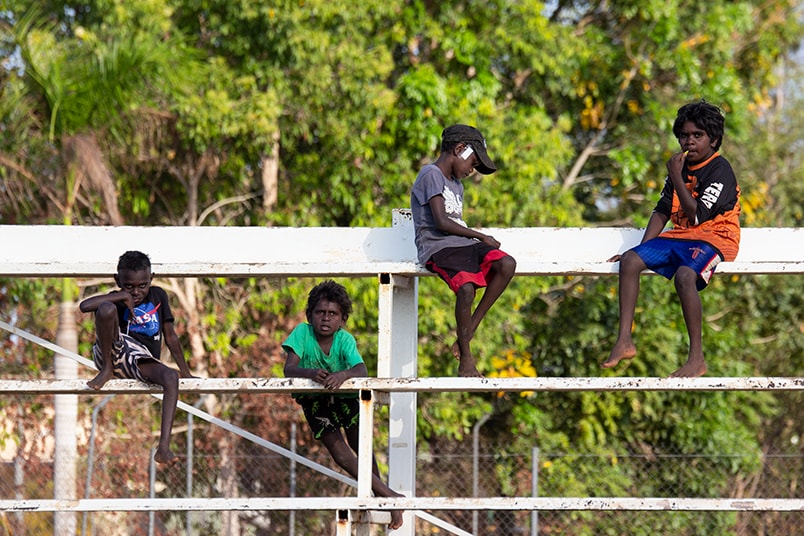 The Tiwi kids are playful, cheeky and warm. As these boys eagerly anticipate the first game of the 2019/2020 Tiwi Islands Football League season at Wurrumiyanga Oval, Jake Stringer approaches them. "Can I sit with you, boys?" Stringer asks. "Sorry, Jake. This is the members stand," comes the reply. (Photo: Essendon FC)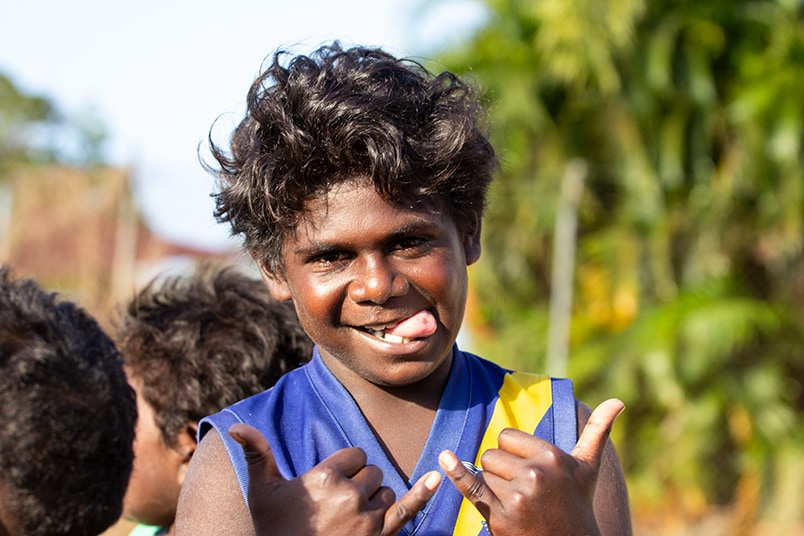 Rather than sitting with Stringer, the boys are more interested in taking the club camera. One of them takes this ripping shot. (Photo: Jenson)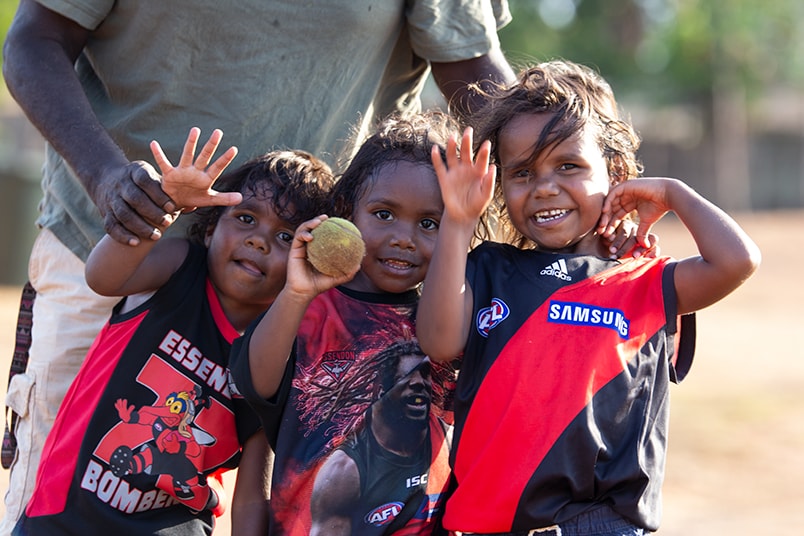 The Bombers have a strong following all over Australia, but especially on the Tiwi Islands. You'll find the t-shirt in the middle worn by many kids, honouring their hometown hero Anthony McDonald-Tipungwuti, who has many relatives on the islands. (Photo: Essendon FC)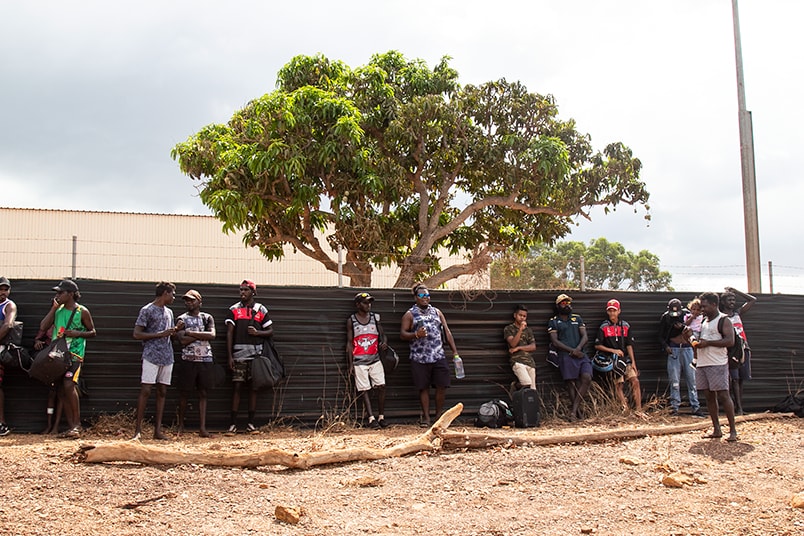 The Tiwi Bombers were formed in 2006, becoming the first All-Aboriginal team to compete in a major competition. With support from Essendon, the majority of the team must take a two-hour ferry ride to Darwin most weeks to play in the top division of the Northern Territory Football League, which runs from October to March. Here, you can see several players waiting for the ferry to arrive on the eve of their clash with Wanderers at TIO Stadium. They'll spend the night at a Darwin hotel ahead of the Saturday night game, returning to the Islands on Sunday. (Photo: Essendon FC)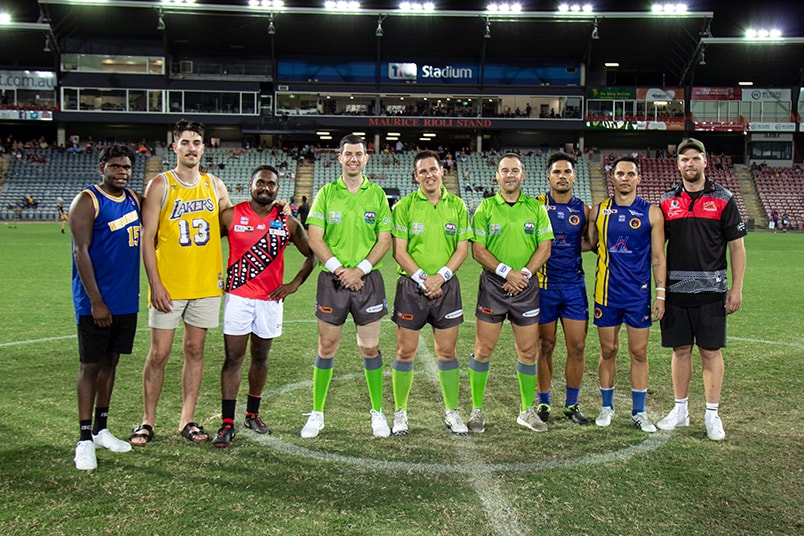 Irving Mosquito, Noah Gown and Jake Stringer join umpires and opposing captains in the centre circle before the NTFL match between the Tiwi Bombers and Wanderers at TIO Stadium. Stringer is lucky enough to toss the coin - a moment he's been eagerly anticipating. (Photo: Essendon FC)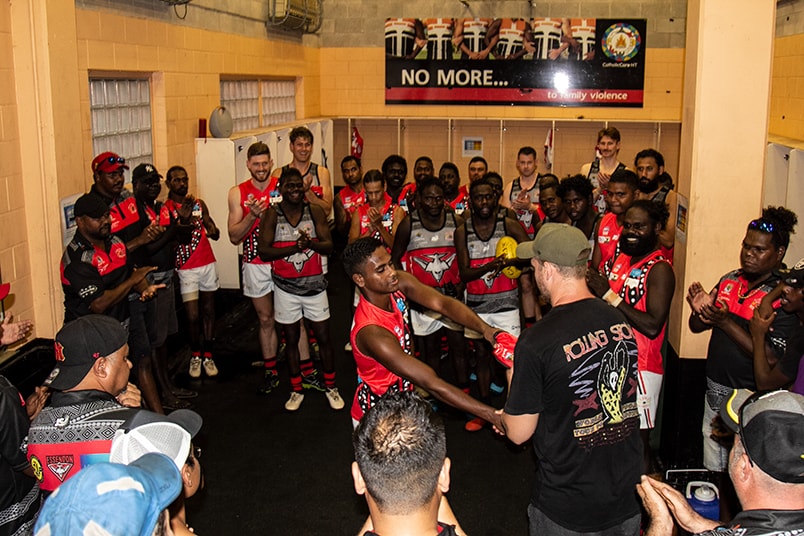 Talented youngster Jeffrey Simon presents Jake Stringer with a Tiwi Bombers guernsey in the rooms before the game. Simon has already spent some time at The Hangar as a member of Essendon's Next Generation Academy. (Photo: Essendon FC)

Four-time Hawthorn premiership player Cyril Rioli gives the final address to the Tiwi players before the bounce. The Tiwi legend joined as an assistant coach ahead of the season, taking care of the forward line. You can see some words on the whiteboard that underpin this unique team's approach, but what were his final words to the players? "Enjoyment, enjoyment. Alright?" (Photo: Essendon FC)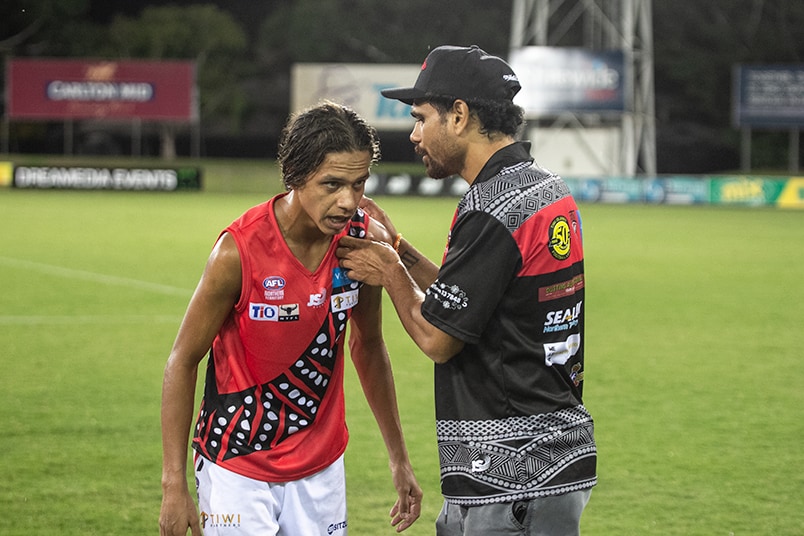 Cyril Rioli gives some encouragement to his nephew Brayden Rioli, as Tiwi battles to regain the ascendancy in the second half. Brayden is the younger brother of dual Richmond premiership player Daniel Rioli. He's a member of Essendon's Next Generation Academy, and will be eligible for next year's draft. (Photo: Essendon FC)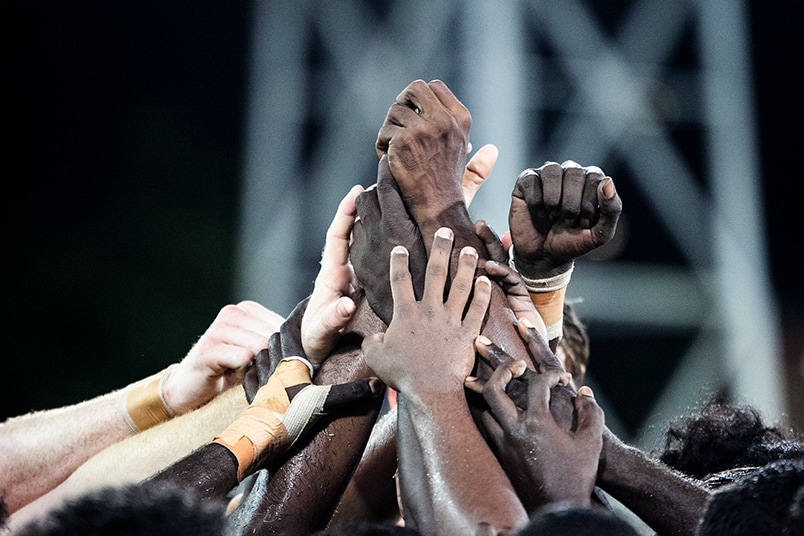 The Tiwi Bombers are a tight-knit family. They want to play for each other, and have a unique bond. Here, they link hands during the three-quarter time huddle, but unfortunately can't get the win, falling to Wanderers by 14 points. (Photo: Essendon FC)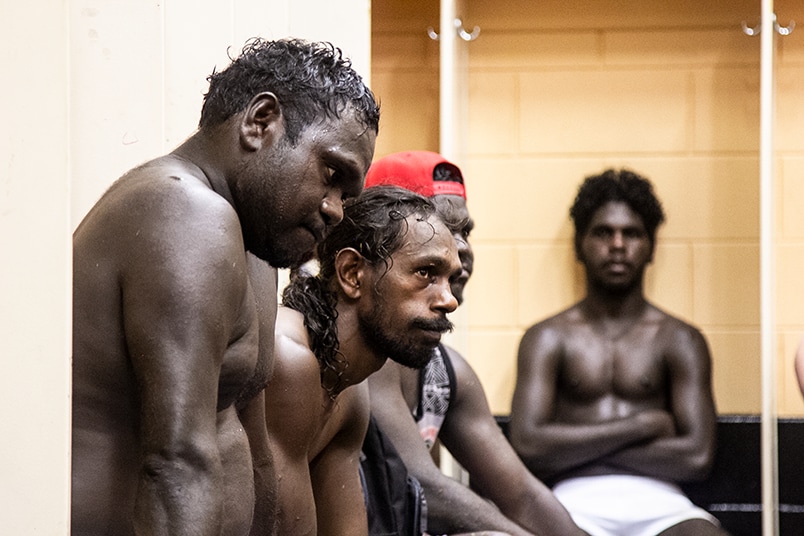 Dejected Tiwi Bombers mull over the defeat. Roy Farmer (far left) is the last to leave the rooms, sitting in this position for what seems an eternity. The Tiwi players always want to make their people proud. (Photo: Essendon FC)
Stay tuned for more content from Essendon's 2019 Tiwi trip.