Footy heroes always attract crowds.
And in Wurrumiyanga, located 80km off the Australian mainland on the Tiwi Islands, one man's imminent arrival is the talk of this tiny community.
It's just ticked past 1pm on a Thursday in late October when the first half of the Bombers' travelling group lands on terra firma, having crossed the Arafura Sea from Darwin in a six-seater plane.
That sounds terrifying if light planes aren't your thing, but it's a journey that's become a rite of passage for many Essendon players and staff over the 12 years the club has been supporting the remote islands.
Donning club polos, the group walks along Wurrumiyanga's main road to reach the local milk bar - a pit stop for food and water before running a female talent identification session at Xavier Catholic College.
Nearby, families are gathered across the road under the shade of trees surrounded by red dirt, socialising over lunch as the mercury hits a searing 35C.
Their attention is diverted when they spot the red and black colours through the haze from about 100m away, waving hello with their smiles beaming. 
But the man they're all expecting isn't around.
"Stringer! Where's Stringer?" they shout.
"'Package'! Where's the Package?"
Essendon VFLW coach Brendan Major, captain Courtney Ugle and star Ally Anderson provide the reassurances, answering at least 30 questions about Jake Stringer's whereabouts.
But they're soon followed on foot by the locals, who leave their lunch spots to begin queueing up outside the milk bar in anticipation of Stringer's arrival. 
Moments later, their wishes are granted as the star forward steps out of a four-wheel drive after fishing in Milikapiti – his white singlet covered in fish oils - alongside teammates Irving Mosquito and Noah Gown. 
At least 100 surround him in the space of five minutes - men, women, boys and girls - many having affinities with opposing AFL clubs but all fighting for his attention.
Even the local police pull over for a photo and a chat.
"Once we landed and the word got out, I remember thinking, yeah, this could be a little bit interesting," Stringer recalls.
"But I wasn't expecting that much love. It was pretty eye-opening. They were all keen to get me over there and introduce me to everyone. They were just so welcoming, loving and caring."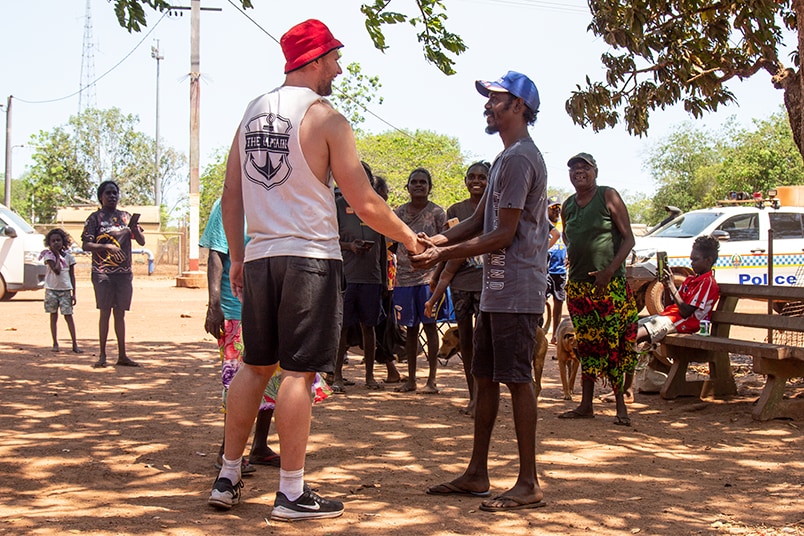 The locals flock to Stringer in Wurrumiyanga as news of his arrival quickly spreads. (Photo: Essendon FC)
It's Stringer's first time on the Tiwi Islands, and while the rockstar reception surprises him, he's quickly learning why many describe footy as a religion for the Tiwi people.
And that's no cliche, either.
After all, this land has produced some of the game's great deities - Michael Long, Maurice Rioli and Cyril Rioli to name a few - while six of the past eight AFL premiership teams have featured a Tiwi Islander.
Yep, six of the past eight, plus a Norm Smith Medallist in that time.
That's staggering when you consider the Tiwi population sits just under 2,600, but for such a small population, the islands well and truly punch above their weight.
They produce eight teams for the local Tiwi Islands Football League (TIFL), while they're represented in the top division of the Northern Territory Football League (NTFL) by the Essendon-sponsored Tiwi Bombers - the first All-Aboriginal team to compete in a major competition.
Each Friday, many junior male and female footballers take a two-hour ferry trip to Darwin, where they'll compete for various NTFL clubs.
It all results in well over a third of the population playing competitive footy, which is said to be the country's highest participation rate.
Taking the opportunity to witness the next wave of talent, Stringer and co. head to Wurrumiyanga Oval on their first night to watch a TIFL game between Tapalinga and Ranku.
It's the opening game of the new TIFL season, so there's a carnival atmosphere at the ground.
As they take their seats in one of the stands, a Tiwi woman sits next to Harmit Singh, Essendon's academies manager.
An avid Geelong supporter, she introduces herself as 'Mitch Duncan'.
She says there are many Tiwis with AFL-inspired aliases, reeling off a Jobe Watson, a Lance Franklin and a Jack Riewoldt as examples. 
There was even a dog called Windy Hill, who sadly passed away a couple of weeks ago. 
But one kid has taken the passion to a whole new level.
"See that kid over there?" she tells Singh, pointing to a boy who's heading towards the Essendon contingent.
"That's Brett Deledio. His real name is Brett Deledio."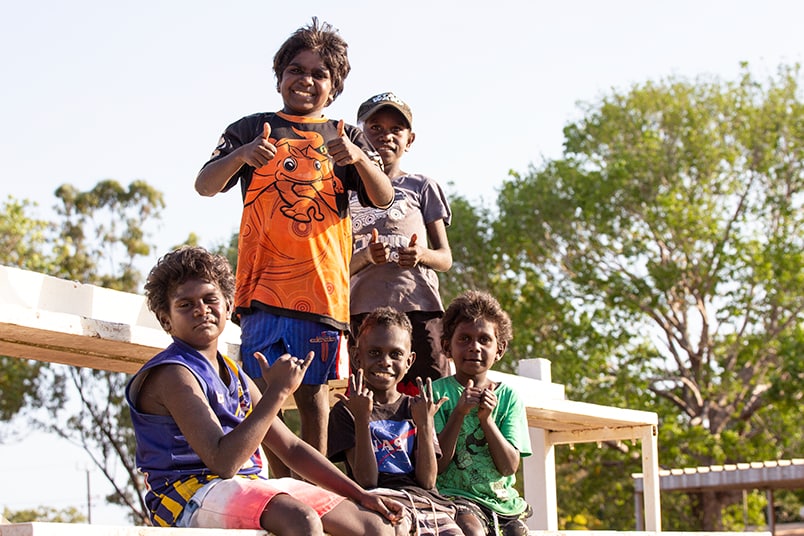 A group of footy-mad Tiwi kids get their seats early ahead of the opening game of the TIFL season. (Photo: Essendon FC)
The conversation is short-lived as the action resumes on the field after the quarter-time break.
Fast-paced, free-flowing and dazzling, Tiwi footy is magnetic.
Even stray dogs are drawn to it, entering the play but not fazing the players, who use their speed and nifty footwork to dodge them.
Along the boundary, bare-footed and bare-chested kids play their own game of footy, spilling out onto the field and putting their bodies into the path of oncoming traffic.
Singh opens his backpack, pulls out a few Essendon guernseys and reaches over the fence to hand them over. They're too baggy, so the kids tuck them into their shorts, thank him and resume their game.
They soon realise their opponents have something to grab, however, so they remove the guernseys and get back to playing unrestricted.
But while their fabric is removed, the social fabric – footy – remains.
"Everyone can understand the deep passion they have for the game," Singh says.
"You can see that with the children coming through and being able to kick a ball nearly before they can walk.
"Any opportunity to play sport, especially football, they throw themselves at, and their talent is so raw and special."
TIWI TRIP: THE STORIES BEHIND THE PHOTOS
Singh doesn't take for granted the role he and Essendon play on the Tiwi Islands, and it's nights like these that only reinforce that.
Visiting the Tiwi communities at least five teams a year as part of his role, he's at the forefront of nurturing the talent in what has been one of Essendon's Next Generation Academy (NGA) zones since 2017.
The rewards are starting to show, too, with a handful of Tiwi youngsters currently in the Bombers' NGA.
But it's not just about recruiting talent, as the club's support for the Tiwi Islands spans over a decade, impacting far beyond footy.
And it's been much-needed, with the islands' challenges well-documented.
In the early 2000s, they had the highest suicide rate per capita in the world, with youth the most at risk.
Encouragingly, those numbers have rapidly declined, with the introduction of the Tiwi Bombers in 2006 and Essendon's ongoing presence helping to heal hurting communities through a shared love for footy.
"What the arrival of the Tiwi Bombers has done is created the communities' own team - a team they're really proud of for their people and their country," Singh says.
"The structured environment of the Tiwi Bombers has helped with some social outcomes, and a lot of their players have got young children, nieces and nephews, who now readily see Essendon supporting not just the Tiwi Bombers, but the community as well.
"We'll often run education sessions on the islands as part of the Tiwi Bombers environment, using the team's popularity as a vehicle to impact positive change.
"We've had some really good buy-in, and slowly there's some generational change in terms of people's attitudes towards things and their children.
"Through the Next Generation Academy over the past three years, we've been able to impact so many kids and connect with adults, and for them to understand that we're there to help them. 
"It's not just about finding the talent, but also helping kids get through school and be the best versions of themselves, knowing they have the talent and ability to achieve great things with the right support systems in place."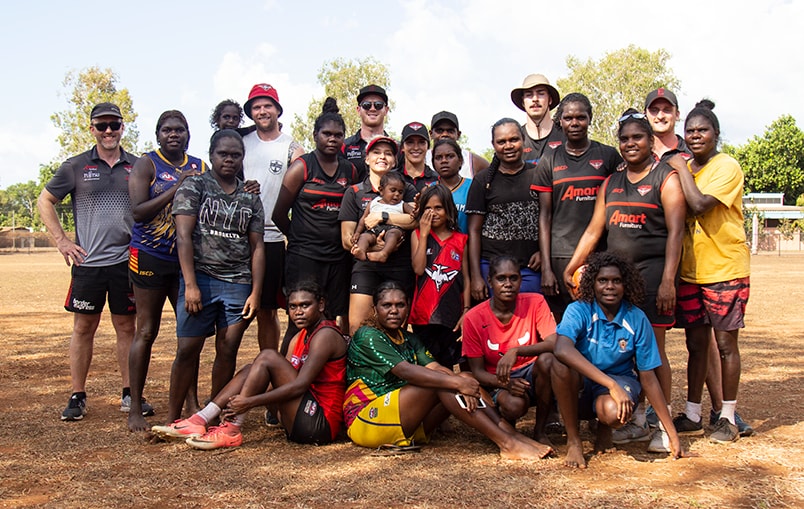 The Bombers visit Xavier Catholic College to run a female talent identification session. (Photo: Essendon FC)
Singh's words ring true for Stringer.
Over three days, he's been fully immersed in the Tiwi communities, now realising the full significance of his arrival outside the Wurrumiyanga milk bar back on that first morning.
As he reflects on the trip, one of the first things he mentions is the respect he's grown for Mosquito, who is seated next to him while the pair wait to board their flight back to Melbourne from Darwin.
Growing up in Halls Creek – a remote town in the East Kimberley region of Western Australia – Mosquito moved to Gippsland at the age of 11 to further his education and pursue his dream of playing for Essendon.
It had been the first-year Bomber's long-held ambition to visit the Tiwi Islands and see where his favourite teammate Anthony McDonald-Tipungwuti came from, so he's ticked off two goals in the space of a year.
"It's given me a greater appreciation of 'Mozzie'," Stringer says.
"Even though he's not from this community, I have a much better understanding of how his similar community would have worked and the struggles that he would have faced, which you don't realise until you actually visit those places.
"It's (moving to Melbourne from a remote community) not a little jump. It's massive."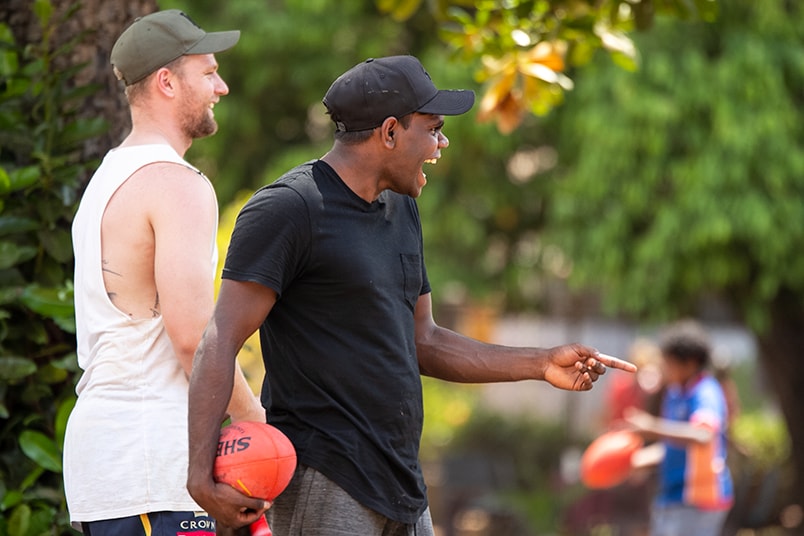 Mosquito and Stringer during their first visit to the Tiwi Islands. (Photo: Essendon FC)
You can see the admiration for Mosquito in Stringer's eyes.
He's proud to call him a teammate, but even prouder to represent a club that supports Indigenous people like him.
"The biggest eye-opening experience has been how much work the club does in the community – people like Harmit (Singh), Darren (Darren Harris, general manager of community, academies and women's football development), 'Shep' (Bernard Shepheard, community manager and VFLW assistant coach), 'Major' (Brendan Major, VFLW coach) and Courtney (Courtney Ugle, VFLW captain and women's football development coordinator)," he says.
"If I take someone like Harmit for example, he knows every Tiwi family. They all respect him, they all come over to him, and they all talk to him. He looks after these kids from when they're even as young as 10, up until the academies.
"I'm proud that the football club is giving the little Tiwi kids the opportunity to achieve their dreams, and for the majority of them, that dream is to play AFL.
"The trip has been a really big eye-opener. I've really enjoyed it, and I'd happily go back every year."