Mid-season recruit Will Snelling says he wants to develop his forward craft ahead of his second season as a Bomber.
Snelling immediately impressed upon arriving at The Hangar this year, booting five goals from four senior games including two in the club's elimination final clash with West Coast on the big stage.
Predominantly playing as an inside midfielder in his footballing career, Snelling enjoyed gaining greater opportunities than expected in the forward line and he sees his development as a goalkicker as a key priority ahead of the pre-season.
"We had a bit of a chat at my exit meeting back in early October and had a talk about what some of my goals will be for next year," Snelling said on SEN SA on Thursday.
"I think developing myself a little bit more as a forward, I got thrust into that role a bit due to (player) availability this year.
"My game has particularly been a midfielder's game, so I said just having a bit more focus in the pre-season on learning some forward craft, whilst also being able to go into the midfield when I need to (is a goal).
"We start on Monday, all of the young guys, so I'll probably sit down with some of the coaches and go through a plan as to what I want to focus on in the next few months."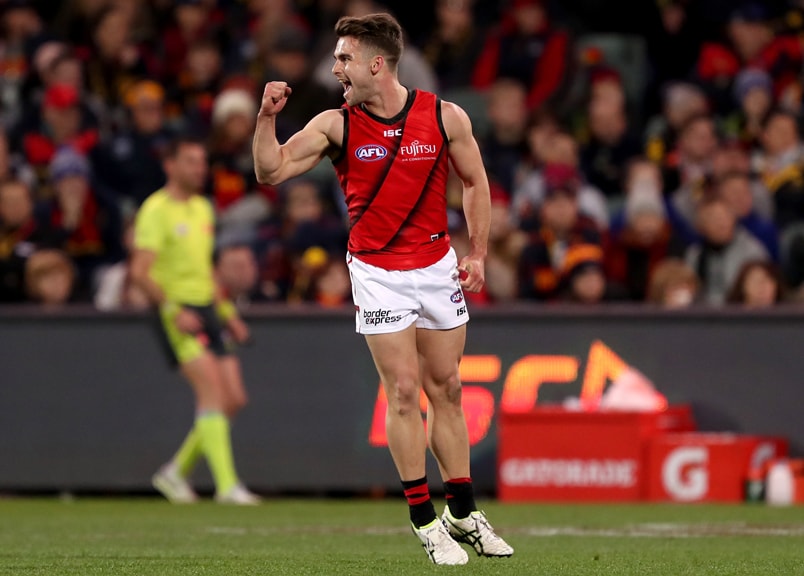 Snelling celebrates a goal on his Essendon debut against the Crows at Adelaide Oval. (Image: AFL Photos)
2019 has been a whirlwind year for the 22-year-old, who kicked off the season with SANFL club West Adelaide before he was whisked away to The Hangar via the mid-season draft.
It is Snelling's second AFL opportunity after a three-year stint at Port Adelaide that frustratingly drew just one senior game.
While he admitted it has been nice to catch a breath following what he described as a "crazy" year, he said he took great enjoyment out of performing on the big stage, even when the majority of fans were on the opposing side.
"I'm one of those people that actually enjoys booing. You've got to generate your own energy out on the field, so I really actually enjoy that.
"At the start of the year there were probably a couple of thousand at the games, then a little bit more at the VFL and then up to the bright lights of 70-odd thousand.
"I'm really embracing that, I really enjoy it. Even at training at Essendon, it's a massive club so we get lots of people out for them as well.
"It's probably one of those things you get used to over time, but at the moment I'm really enjoying it."
Essendon's coaching structure has had a reshuffle with the club recently announcing a succession plan that will see assistant coach Ben Rutten take over from head coach John Worsfold at the end of the 2020 season.
Snelling said the Bombers "love the idea as a playing group" and he is excited to play under the pair next year.
"I've only been there for a short while, but 'Truck' (Rutten) has got a really strong relationship with the group. He's come from a really successful club at Richmond, so he knows what's required and I think everyone's got a lot of trust and belief in him that he can go forward with that plan with us," Snelling said.
"Woosha's one of the better coaches I can see who has got no ego to control the group – he's very willing to have this dual role with Truck and help facilitate his development.
"We've got a lot of confidence in it and I'm absolutely stoked to have him (Rutten) around, he's been great for me. We did a bit of work with his marking craft and he's really knowledgeable, so I think he's going to go really well this year.
"It will be interesting to see the dynamic, I think they've got it worked out really well, so I'm looking forward to it."
Snelling will be among the players back at the club next week when those entering their first to fourth seasons return to the track.