Allowing the Bombers to embrace their natural flair will be a key priority for new forwards coach Dan Jordan in 2020.

The last fortnight has been a whirlwind for Jordan, who immediately took over the role from departed assistant Hayden Skipworth on day one of the pre-season.
But he has already expressed his passion for encouraging the side's forwards to take advantage of their instinctive strengths.
"What I am all about is really highlighting and encouraging individual players' flair. Particularly in the forward line, guys have different traits that we need to encourage and not quell a little bit," Jordan said on Friday.
"We need to know and connect with each other and know what each other brings to the table – that means that there are both some real positives and also some deficiencies in games that we're going to have to accept to find the right balance.
"That connection piece is really important for us as a club moving forward and also as a forward-line group, but it's really exciting.
"Some of the players that we have down there and what they can bring to the table is quite unique and their skill set is really hard to be mainstream. I want to celebrate that and be able to give them the freedom to be able to play like that."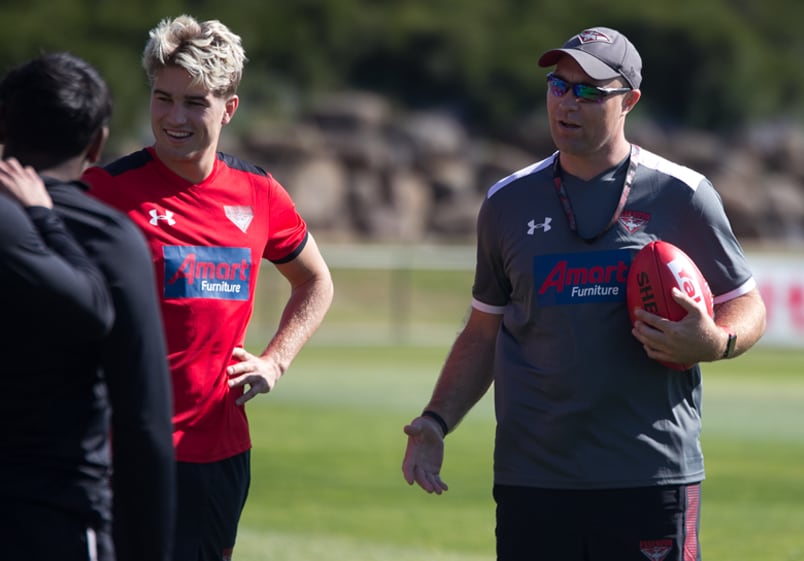 Dan Jordan will have plenty of exciting players at his disposal in 2020. (Image: Essendon FC)
Jordan enters the job off the back of an impressive stint as head coach of the VFL Bombers, leading the side to consecutive preliminary final appearances despite personnel challenges due to senior and reserve injuries across the two years.
He said the strong performances were the result of creating meaningful relationships with both the AFL and VFL-listed players and
"The main foundation of that was just being able to build some really good relationships with our current playing list, being able to work with them intimately and getting to know their strengths and weaknesses, and also my methods of communication and how I coach.
"The VFL program is terrific for autonomy as a coach and being able to man manage and give you those skills to implement, and that will be something I hold in good stead to take into this new role.
"(The new job) is a little bit more close-knit in terms of just looking after one line, but the feedback's been really positive early and I've got some fresh ideas that I want to bring to the table as well."
Jordan is more than qualified to take on the responsibility in the forward line having been a dominant goalkicking force throughout his playing career.
Impressive efforts at school and in the VAFA kick-started his career that eventually culminated in a position in the Ballarat Football Netball League's Hall of Fame after booting 737 goals and claiming six Tony Lockett Medals as the league's leading goalkicker.
He kicked a remarkable 148 goals in his first season in the BFNL and was notorious for his powerful, high-flying game style. And while he admitted some time had passed since his time in the forward 50, he said there are elements of his playing days he can still add to the club.
"One of the things I'll be focusing on is getting our guys better in one-on-one contests, which is something that I worked hard on throughout my career, albeit at a much lower level and a long time ago.
"I think there are some really good things with the IP (intellectual property) I can bring to that forward line and individuals to be able to help them improve.
"Also understanding forward structures and the way things operate, and also connection with our teammates up the field that I think are really good growth areas for us."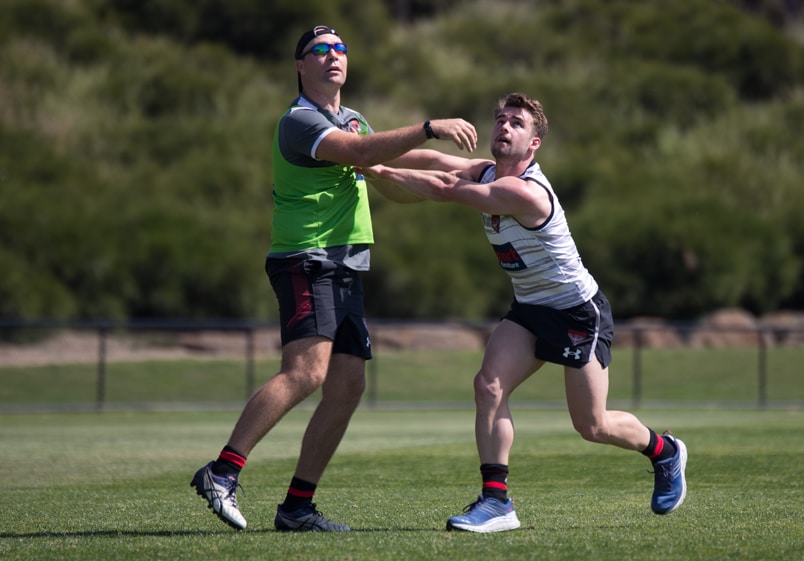 Jordan has worked hard on the Bombers' one-on-one craft. (Image: Essendon FC)
Jordan's time in charge of the VFL program saw him gain valuable insights into some of the club's younger players and he is particularly excited about the potential of a few emerging Bombers.
"Having seen a lot of guys like Noah Gown and Irving Mosquito last year, I'm really excited for how they can develop and what they can potentially bring to the table. Both of them haven't debuted at AFL level yet, but I'm sure that they've got the talent and the work ethic to put in and really make long AFL careers.
"Young Will Snelling played a fair bit with me in the back half of the year when he came across, I think he's got some really good attributes to be able to offer.
"Guys like Jayden Laverde who has been hampered by injury, played a lot of VFL football, played a lot of AFL football and has probably just teased us with a little of his ability. (It is) about being able to get him consistently right and physically in good shape to have a really good crack at it.
"Those sorts of guys who I have coached a fair bit over the last couple of years through the VFL program, I'm really looking forward to helping them and seeing if they can transition into the AFL."
The full squad will return to training on Monday.