The Bombers' longest serving commercial partner Yakult has today extended its partnership with the club for a further two years.
The contract extension will take Yakult's longstanding allegiance to 17 years as Essendon's official match-day ball sponsor. 
Yakult is a fermented milk drink that contains a high concentration of the unique bacteria lactobacillus casei shirota strain.
Essendon CEO Xavier Campbell said the contract extension was a fantastic outcome for the club.
"We are thrilled to continue working closely with Yakult, with the new deal taking the partnership into the club's 150th year - a significant milestone," Campbell said.
"The club's relationship with Mr Kenji Ono and the Yakult family has strengthened and evolved over the course of 15 seasons and is something we are incredibly proud of.
"We thank Yakult for its ongoing support of the Essendon Football Club."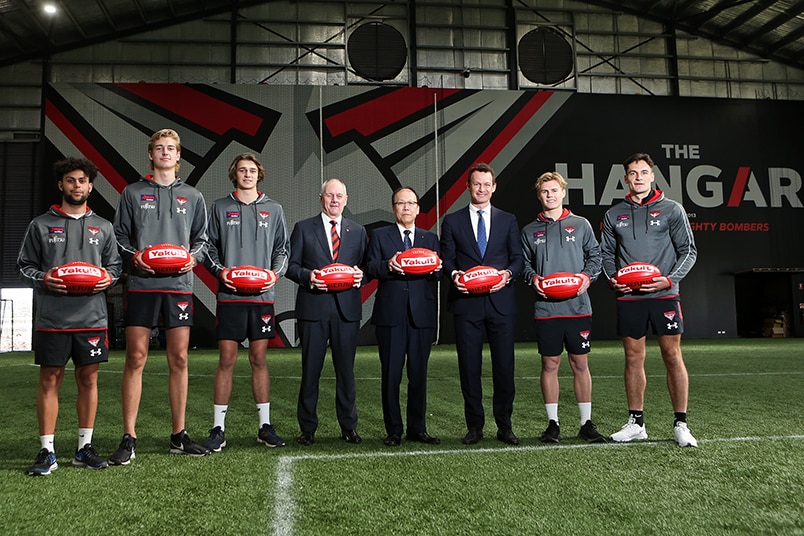 Yakult has extended its partnership with Essendon for a further two years. (Photo: AFL Photos)
Through the Bombers' partnership, Yakult has aligned with Challenge as a corporate partner and will be the presenting partner of the Tackling Childhood Cancer Game.
As part of the initiative, Yakult will donate to Challenge for every tackle an Essendon player makes during the game.
Yakult will continue to engage with the club's member and supporter base, providing products for tours and community groups at The Hangar.
Yakult Australia managing director Mr Kenji Ono said he was thrilled to see the partnership continue to grow.
"We are very pleased to recommit to Essendon for a further two years," Mr Ono said.
"We are delighted that our relationship has matured to the point where we can work together to the benefit of third parties such as Challenge.
"We are proud of the fact that we are Essendon's longest-serving commercial partner and we look forward to a time in the near future when the new draftees arriving at the club will have been born after we established our partnership with the club."
Yakult will remain a key part of the nutritional program at Essendon, with a focus on immunity and wellbeing.
Yakult is also the event partner of the Crichton Medal – the club's best and fairest night.
Click here for more information on Yakult.