Essendon is delighted to announce Paul Little AO, David Evans, Julie Allan and Chris Allan have tonight been inducted as life members of the club for their contribution to the red and black. 
The four new inductees were formally recognised at the Bombers' Annual General Meeting and Members Forum at Marvel Stadium on Thursday evening.
Former chairman Paul Little AO has a long and proud association with Essendon. Paul is a lifelong supporter of the Bombers, serving the club in various capacities over many years including assisting in major projects fundraising.
Through his business interests, Paul has provided avenues of sponsorship for the club and has continued his generous support since stepping down from the Board in December, 2015.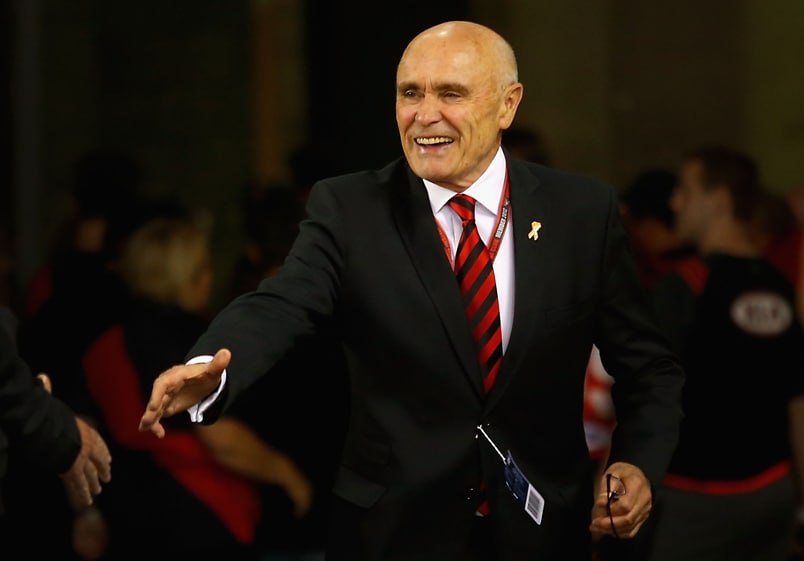 Paul Little was chairman of Essendon from 2013 to 2015. (Image: AFL Photos)
David Evans has been a lifelong member and supporter of Essendon. A past player, his late father Ron became chairman of the club - the latter being footsteps that David himself followed in late 2009 to 2012.
David's contribution to the red and black has been profound as the driving force behind the fundraising program and construction of the club's world-class facilities at The Hangar in Tullamarine. 
Since stepping down from the Board in 2013, David continues to be a generous supporter of the club.
Julie Allan has been awarded life membership for her incredible service to the club for over 20 years. Since 2000, Julie has been an active member and leader of the Essendon Social Marketing Committee – a volunteer group that works tirelessly to raise funds for the club.
In 2012, Julie was recognised with membership of the Essendon Past Players Association for her outstanding service to the club. Additionally, Julie is a long-standing member of the Essendon Women's Network.
Chris Allan joined the social marketing committee alongside his wife Julie at the end of the 1999 season and has since volunteered his time in numerous roles on behalf of the club. 
Chris has been pivotal in fundraising for Essendon through sales for the Home Game TV raffles and President's Function first-goal fundraising activations, and he continues to be vital to the execution of post-match social club auctions and raffles.
Under the club's current constitution, the Board has discretion in electing life members of the club, having previously identified specific criteria in electing life members including players (10 years on a senior list or 150 senior games), premiership players, 10 years' service on the Board, or for 20 years' service for non-players (staff and volunteers).