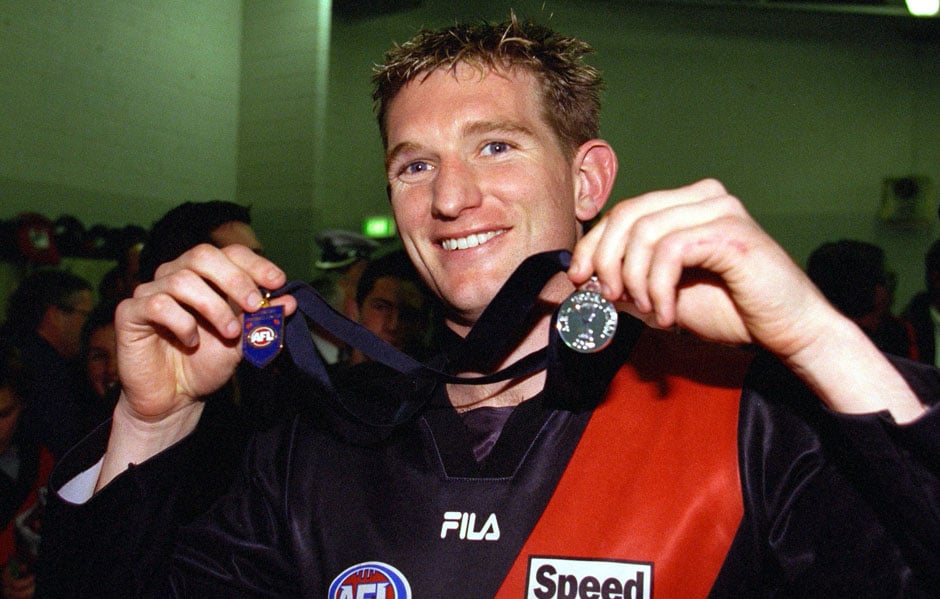 Ahead of the NAB AFL Drafts later this week, essendonfc.com.au has looked at some of the club's best value selections from the draft era.
Fans may have to wait a while for Essendon's first selection in this year's national draft, which currently lies at pick 34, but history suggests there are plenty of stars to be found from that pick onward.
Introducing, in no particular order, our top 10 'Bargain Bombers'…
DAVID HILLE
197 games
153 goals
2008 Crichton Medal
2006 caretaker captain
Selected at – Pick 40 (1999)
A powerful and skilful ruckman, David Hille became one of the club's most important players throughout the 2000s.
Hille settled into his career beautifully, showing such impressive leadership that legendary coach Kevin Sheedy selected the young Bomber to take over the captaincy in 2006 once then captain Matthew Lloyd was ruled out of the year due to injury just weeks into the season.
Just two years later, Hille claimed the Crichton Medal after putting together a brilliant season. He averaged 16 disposals, 18 hit-outs, eight contested possessions, three inside-50s and three clearances in 2008 to claim the prestigious award and cement his spot among the league's best big men.
Unfortunately, injury plagued the remainder of Hille's career, ultimately restricting him to 197 games.
DEAN RIOLI
100 games
91 goals
Selected at – Pick three (1997 rookie draft)
Anyone who saw Dean Rioli grace the field would know how immensely talented he was.
In his first season in the senior side in 1999, Rioli booted 29 goals from just 17 games in a brilliant display of skill before the injuries began to take their toll the following year, keeping him out of the club's premiership side.
While issues with his body continued to cruelly hold back Rioli's career, his 100 games for the Bombers are among the most memorable for Essendon fans.
Often nicknamed 'Magic' – partly in honour of his uncle Maurice – Rioli was silky, inventive, exciting and an absolute joy to watch.
ORAZIO FANTASIA*
60 games
90 goals
Selected at – Pick 55 (2013)
*Still playing
After kicking off his career across half-back, Fantasia has settled to become one of the league's most exciting forwards.
While injuries restricted Fantasia's output this year, he was still able to boot 20 goals from just 13 games, following up on his outstanding haul of 39 goals in 2017.
The 23-year-old is one of the hardest match-ups in the game, mixing elite pace and agility with terrific aerial ability.
Recent seasons have seen Fantasia also increase his time in the midfield, using his explosiveness to great effect. If he remains on track to get consistent game time next year and beyond, he will become one of the club's greatest bargain selections.
DAMIEN HARDWICK
153 games for Essendon
1998 Crichton Medal
2000 premiership player
2000 All Australian
Selected at – Pick 87 (1992)
Now best known as Richmond's premiership-winning senior coach, it is easy to overlook how impressive Damien Hardwick's playing career was.
Hardwick was a rock in defence for the Bombers from the mid-1990s to the early 2000s, taking an uncompromising approach on the field to earn a reputation as one of the league's toughest players.
He had huge success with the Bombers, claiming the Crichton Medal in 1998 before playing a crucial role in the team's premiership in 2000, a year in which he was also named as an All Australian.
Hardwick went on to further premiership success as a player with Port Adelaide in 2004, with his extremely successful career certainly surprising many people after he slipped right down the draft order.
DAMIEN PEVERILL
144 games
25 Brownlow votes
Selected at – Pick 32 (2000 rookie draft)
Damien Peverill went undrafted for four years before eventually getting the big break he deserved when the Bombers picked him up with their final selection in their premiership year.
The gutsy midfielder grasped his first opportunity at the club with both hands and ran with it, bursting onto the scene in 2001 as a replacement for injured star Joe Misiti.
The specialist tagger became one of the league's top shut-down players, repeatedly taking on the challenge of matching up on the oppositions best players.
Essendon was certainly rewarded for giving the underrated on-baller his chance at the top level.
JUSTIN BLUMFIELD
148 games for Essendon
86 goals for Essendon
2000 premiership player
Selected at – Pick 62 (1994)
Justin Blumfield was one of the Bombers' most consistent players throughout what was a brilliant era for the club.
He reserved his best year of football for 2000, when he proved to be an important cog in the side's premiership victory.
He found plenty of the ball and booted 27 goals in the successful season, and performed strongly in the Grand Final with 23 disposals, 11 contested possessions, seven inside-50s and a goal.
Blumfield went on to play 19 games for Richmond to close out his career.
CALE HOOKER*
175 games
82 goals
2015 Crichton Medal
2014 All Australian
Selected at – Pick 54 (2007)
*Still playing
While a year away from the club briefly halted Hooker's career, he has come back in outstanding form, putting together two more terrific seasons since returning to the field and showing he still has plenty to offer.
One of Hooker's key weapons is his flexibility. While he was selected as a key defender in the 2014 All-Australian side after a dominant season down back, the powerful West Australian has shown plenty of class as a forward, booting 62 goals throughout 2017 and the back half of 2015.
One of the league's best players in the air, Hooker reads the play brilliantly and is an extremely important pillar for the team wherever he lines up.
MARK JOHNSON
194 games for Essendon
2002 Crichton Medal
2000 premiership player
Selected at – Pick 12 (1996 rookie draft)
An incredibly tough and versatile player, Mark Johnson was utilised in a number of positions during his time in the red and black.
Johnson's courageous and skilful gameplay was a dangerous mix for the opposition and he was a strong and consistent performer for the side in 2000.
Whether playing as a shut-down defender, a tough on-baller or a dangerous and high-flying goalkicker, you always knew what you were going to get with Johnson.
An exciting, but no-nonsense Bomber, Johnson was a real fan favourite who clearly soared above initial expectations.
ANTHONY MCDONALD-TIPUNGWUTI*
66 games
68 goals
Selected at – Pick 22 (2016 rookie draft)
*Still playing
After being overlooked multiple times in the draft, a promising stint with Essendon's VFL side was enough to encourage the club to take a chance on Anthony McDonald-Tipungwuti in the 2015 rookie draft.
With the prospect of regular senior game time in his first season as a number of players were unavailable due to suspension, "Walla" proved to be a spirited selection.
McDonald-Tipungwuti spent the majority of his inaugural year in the senior side at half-back, but a move forward has seen the explosive Bomber take his game to the next level.
The speedster has terrorised a number of clubs' defensive units with his impressive skill and agility in the last two years, booting 60 goals, while also proving to be a headache for the opposition when utilising his athleticism and balance in the midfield.
Now perhaps the club's most popular player, Walla's best could still lie ahead.
JAMES HIRD
253 games
343 goals
1996 Brownlow Medal
Five Crichton Medals
Five-time All Australian
1993 and 2000 (as captain) premiership player
2000 Norm Smith Medal
Selected at – Pick 79 (1990)
Last, but certainly not least. James Hird is arguably the league's greatest bargain selection in draft history.
Pick 79? It seems astounding in hindsight. From his debut as a lightly-framed teenager in the opening round of 1992 to his final game in 2007, Hird was an inspiration for his teammates.
In 1996 he averaged 24 disposals and booted 39 goals, justly being rewarded with the Brownlow Medal, All-Australian selection and his third Crichton Medal before taking over Essendon's captaincy in 1998.
He went on to be one of the club's best ever captains, leading from the front in one of history's top teams to head the 2000 premiership side before eventually passing the role over in 2006.
Graceful, tough, damaging, magical – Hird was a once-in-a-generation player.
document.getElementById("vudoo-iframe-82695780603").onload = function() {var vudooFrame = new vudooIframeEmbed({frame:this,embedid:"82695780603"});};var toggle_frame_screen=function(e,t){var l=document.getElementById("vudoo-iframe-82695780603");e?(l.style.position="fixed",l.style.bottom="0",l.style.left="0",l.style.width="100vw",l.style.height="100%",l.style.zIndex="500000"):(l.style.position="",l.style.top="",l.style.left="",l.style.width="",l.style.height=t.frameHeight,l.style.maxWidth="100%")};
document.getElementById("vudoo-iframe-12673018163").onload = function() {var vudooFrame = new vudooIframeEmbed({frame:this,embedid:"12673018163"});};var toggle_frame_screen=function(e,t){var l=document.getElementById("vudoo-iframe-12673018163");e?(l.style.position="fixed",l.style.bottom="0",l.style.left="0",l.style.width="100vw",l.style.height="100%",l.style.zIndex="500000"):(l.style.position="",l.style.top="",l.style.left="",l.style.width="",l.style.height=t.frameHeight,l.style.maxWidth="100%");};