With just three senior games to his name so far, young forward-turned-defender Daniel Hanna is excited to be part of the VFL Dons as they near the finals series.

The 19-year-old made his debut back in round 19 last season against Geelong, and won 21 touches as a key defender.
"Initially it was a pretty big step up from TAC Cup (now NAB League) to VFL last year. It was a bit quicker-paced, but also took a bit of time to adapt to the style and contested ball because you're playing on bigger bodies," the former Calder Cannon said.
"I'm obviously not the biggest bloke, but I was just happy to get that first one out of the way. When I came into the side this year, I sort of knew what was going on (with the play) and wasn't as nervous."
Hanna found his way back into the side two weeks ago after signing at the start of this year, averaging 13 disposals and five marks so far.
He's been working closely with backline coach and former Essendon fan favourite Ricky Dyson, who has been helping the youngster with his development.
"I've been trying to work on my defensive craft with Ricky. I used to play up forward a lot, but now as a defender I'm probably still a bit too aggressive - like playing off my man, and trying to go for marks.
"Last week against Williamstown, we got chopped up pretty bad as a defensive group so we're trying to work more on our one-on-one contests rather than have everyone fly up (for the ball)."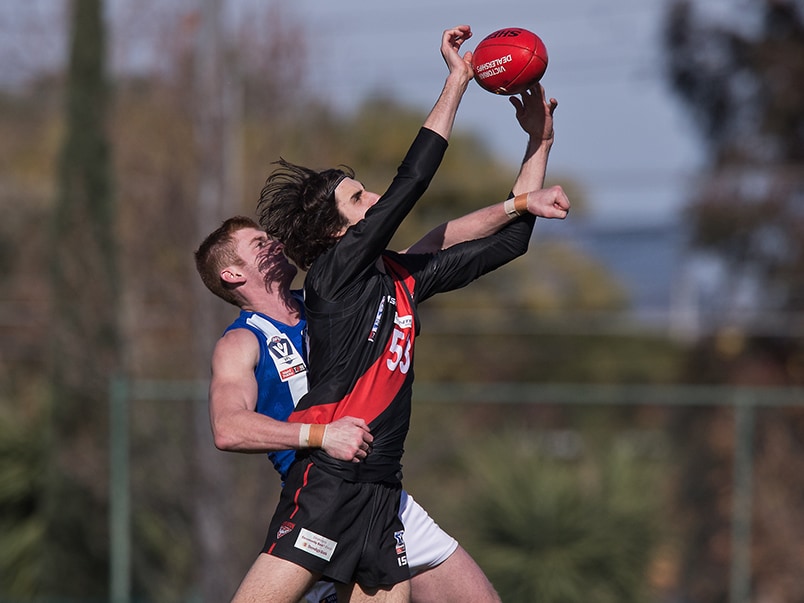 Hanna is finding his feet at VFL level in 2019. (Photo: Ben Johnstone)
Hanna was also part of the James Hird Academy, and during this time formed a close relationship with current vice-captain Heath Hocking.
"I went through the Academy last year, and when Heath came on board it was great because I hadn't really had a mentor like him," Hanna said.
"Obviously he had just retired but was still playing state league footy at a high level, and having just come out of the AFL system he knew a lot more than what I had really experienced before.
"He helped me with my craft throughout the year, and I was lucky enough to play down at Geelong with him in my first game – he presented my jumper to me as well which was pretty special."
Since then, Hanna has juggled his footy with work and study commitments.
"I'm at La Trobe (University) studying psychology and neuroscience, but I also work part-time at two jobs – mainly at a café in the city but also helping pack boxes at a hair product company part-owned by my cousin.
"In my first year at uni, I did it part-time so it was pretty easy to manage, but (I switched to full-time) because now I just want to get it over and done with. It's been tough sometimes but I'm just trying to get it done so I don't have to worry about it.
"It's nothing too crazy, but works well with my footy."
As the VFL home-and-away season nears a close, with finals just around the corner, Hanna says the bond the group shares is a bonus to the on-field success.
"Everyone at the club is really happy with how we're going, and because we're winning everyone is all up and about and really positive at training.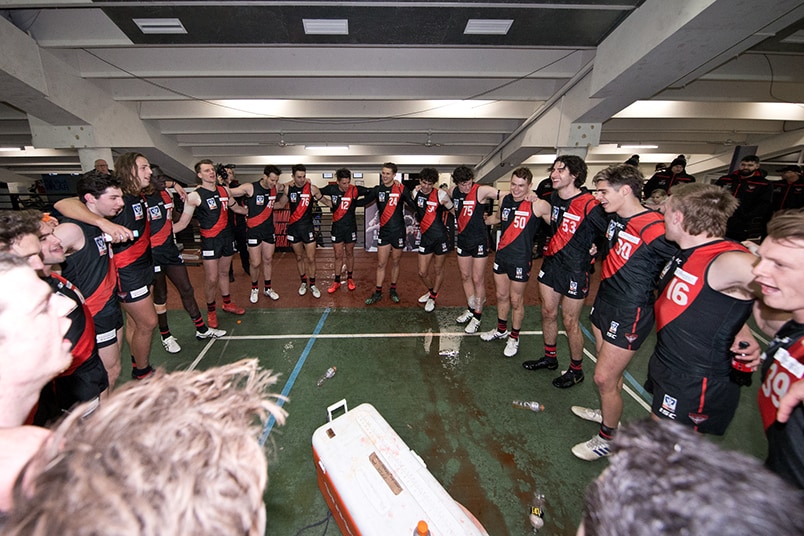 Hanna (right, No.53) says there's a tight bond at the Bombers. (Photo: Ben Johnstone)
"I think that bond takes us into playing our best footy every week, because no matter who comes in or out, we all trust each other and know the strengths of one another."
Brooke Varney is in the final year of her Bachelor of Communications (Journalism) degree at RMIT University. As part of their strategic partnership, Essendon Football Club and RMIT University are committed to providing opportunities for students, staff, players and the wider community.