Essendon senior coach Brendan Major gives his thoughts on the club's upcoming Swisse Wellness VFL Women's season.
2018 FINISH: 13th (1-13 record)
2018 BEST AND FAIREST: 1. Hayley Bullas / 2. Courtney Ugle / 3. Rebecca Neaves
2018 TEAM OF THE YEAR SELECTIONS: Hayley Bullas
2018 AFL WOMEN'S DRAFTEES: Jessica Trend (North Melbourne – pre-list), Danielle Ponter (Adelaide)
2019 SEASON START: vs Casey Demons @ Windy Hill, Saturday May 11 (CLICK HERE for full fixture)
KEY RECRUITS
Marianna Anthony (22yo in 2019): "Marianna was originally a soccer player who has picked up Australian football this year. She shows really good balance, poise and skill, and I think she has quite a few tricks in her game."
Ruby Svarc (26yo in 2019, from St Mary's Salesian): "Ruby has serious speed on the outside. She's new to the game too and is showing a lot of promise. Her and Marianna will be ones to watch in the first six weeks of the season."
Eloise Ashley-Cooper (19yo in 2019, from Murray Bushrangers/Finley): "Eloise has come into the club and not skipped a beat. She's blended into the group well, speaks up at training and works hard. She has a lot of upside and I think a year in the VFLW will do her wonders. She has X-factor."
Taking on the Southern Saints in our first practice game.

It's good to be back!

: Ben Johnstone pic.twitter.com/jEAZppAzBq

— Essendon VFLW (@essendonfcw) April 7, 2019
PRE-SEASON PERFORMERS
Hayley Bullas (23yo in 2019, 20 VFLW games): "Hayley has a quiet demeanour, but when it's time to play, she goes like no other player in the VFLW. She's worked really hard this pre-season on some of her deficiencies. While she built games last year on the back of her tackling, she's brought a whole new dimension to her game with the way she's used the ball this year."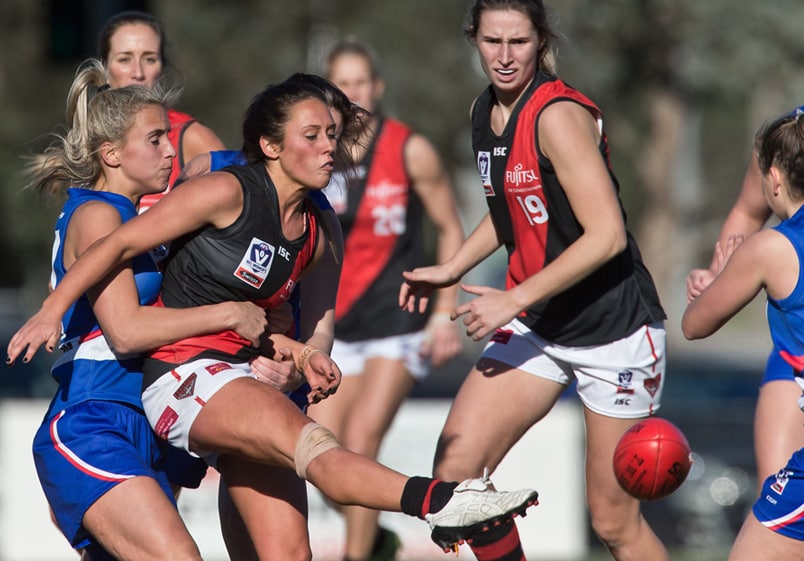 Hayley Bullas led the way for the VFLW Bombers in their inaugural season last year. (Image: Ben Johnstone)
Courtney Ugle (23yo in 2019, 13 VFLW games) and Simone Nalder (29yo in 2019, 14 VFLW games): "Last year when we were starting the program from scratch, it was a big step up for a lot of girls. Courtney and Sim were really good examples of that, but they've come back in good condition this year and have worked hard on the high-performance aspects of being a footballer. They've really flourished with a targeted second pre-season."
AFLW DRAFT PROSPECTS
"I have no doubt Hayley Bullas, Courtney Ugle and Simone Nalder could perform at AFLW level, but it's just about whether a club needs those particular types of players."
LEADERSHIP MATERIAL
"I'd think Hayley Bullas, Courtney Ugle, Simone Nalder and Kirby Hicks (32yo in 2019, 43 VFLW games) would be in the mix (for the leadership group). Younger girls like Lauren Caruso (20yo in 2019, 14 VFLW games) and Molly Warburton (19yo in 2019, five VFLW games) have also taken a big step up with their leadership this pre-season.
"We'll leave the decision on a leadership group until the latest possible time though. I want to give the players the most opportunity to get to know their teammates."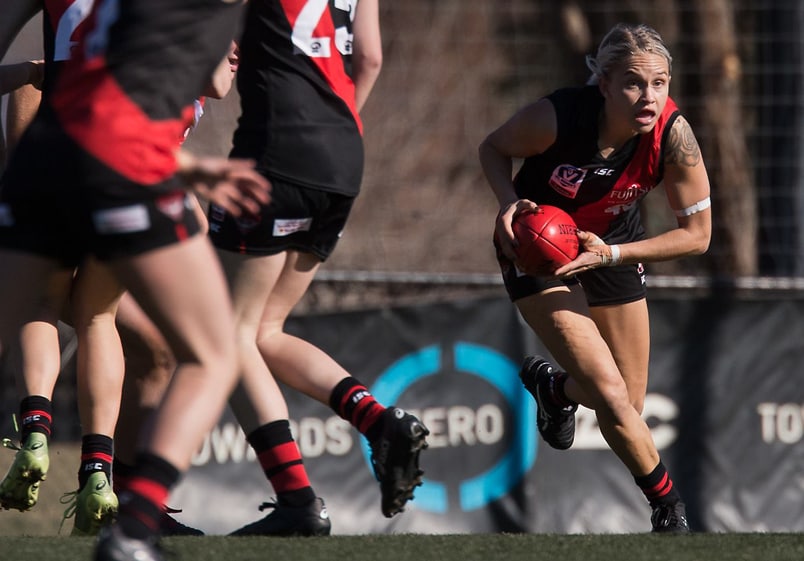 Courtney Ugle is among the chances to be added to the leadership group. (Image: Ben Johnstone)
TEAM STRENGTHS
"I think we have some serious speed on the outside this year and I'd like to see a bit more of an attacking style of footy.
"Last year we were quite defensive and closed down teams well, but we struggled to score at times. I'd like to see development in that aspect of the game this season.
"The list is definitely in better shape than in 2018 and I'm pretty excited about our 18 to 23-year-old age demographic."
ASSISTANT COACHING PANEL
Wayne Schultz (from Essendon VFL)
Bernard Shepheard (from Pascoe Vale)
Brett Pollard (from Calder Cannons)
Well done to the @essendonfcw playing group on the gr8 pre-season & practice match progression phase. The program professionalism, culture & energy is outstanding. Looking fwd to Round 1. Image supplied by C. Ugle (line meeting w. match image/video feedback #donthesash #vflw pic.twitter.com/RcJzIU13zU

— Wayne Schultz (@WSchultz44) April 28, 2019
HEADLINE YOU WANT TO SEE
"Obviously more wins this year would be nice, but we're a development program and the idea of 'See the young Bombers flying around' and playing good footy is the most appealing prospect to me."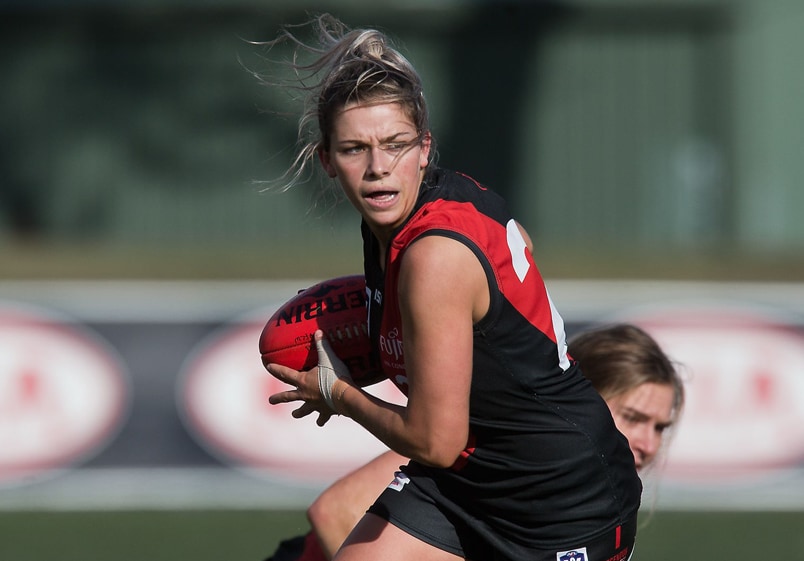 Nat MacDonald is among an exciting crop of young Bombers. (Image: Ben Johnstone)