Essendon will sweat on a number of fitness tests this week as some important Bombers strive to be a part of Sunday's huge Country Game clash with ladder leader Geelong.
Exciting forward Orazio Fantasia and 2018 best and fairest Devon Smith are among those in the mix to line up against the Cats, but club physical performance manager Justin Crow said the pair still have boxes to tick.
The club is hopeful Fantasia, who was a late withdrawal from last week's Anzac Day game due to illness, can put his hand up for selection during Thursday's main training session.
"Raz had the virus, which made him miss the Anzac Day game," Crow said on the SKINS Injury Update on Tuesday.
"He's obviously had blood tests and been checked, he's improving day by day but we'll be tracking him through the week and hoping he can train in our main session."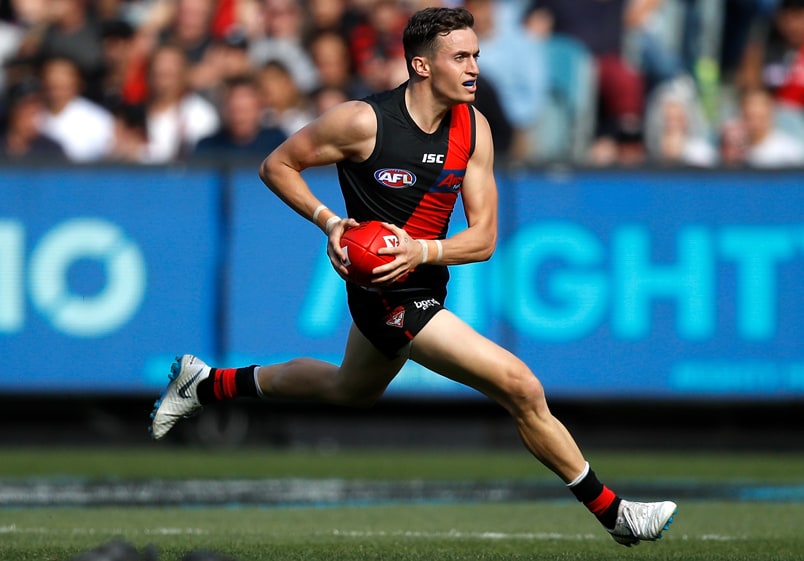 Essendon is hopeful Orazio Fantasia can overcome his illness to take his place in the side at the MCG on Sunday.
Smith had some discomfort in his knee as he took on the Magpies, but Crow stressed the latest issue is not related to the chronic knee problem that saw him managed in the Kick for the Kids clash in round five.
"Dev was managed the week before Anzac Day and went into the game feeling good.
"He got sore in the third quarter in a different part of his knee. We had that scanned and there's no major issue there.
"We're really just keeping tabs on him day by day and seeing how quickly he can improve from that soreness from the Anzac Day match."
Ruck Zac Clarke was on the sidelines for the second game in a row last week after suffering a secondary bleed in a corked calf and while the injury is yet to completely clear, he has built up his running and remains a chance to be available this week.
In-form Bomber Mitch Brown suffered a fractured wrist against Collingwood and Crow said while the forward will still be able to take part in some training, he is likely to miss the next three matches.
"Mitch fell on his outstretched hand towards the end of the game.
"He's got a fracture in the distal part of his radius, which is part of his arm down near the wrist.
"He'll be wearing a guard, he'll be able to join in some aspects of training in the final week of his rehab, but we're expecting him to miss three weeks."
Crow confirmed young forward Jayden Laverde has suffered another setback after sustaining a hamstring strain in the VFL side's comfortable victory over Collingwood on Saturday.
"Jayden in the first quarter was lunging for the football. When he got up he felt (soreness in) his hamstring.
"He does have a hamstring strain and we expect him to miss two to three weeks."

Versatile draftee Tom Jok was unable to take part in the match and is also set for a stint on the sidelines.
"He has picked up bone bruising in his knee, which obviously ruled him out of the VFL game last weekend," Crow said.
"We're expecting him to take another week or two to recover from that as he deloads and then builds back up again."
A further visit to a specialist on Tuesday has seen the club revise the estimated return of defender Marty Gleeson, who suffered a broken cheek bone in the VFL side's previous game against North Melbourne.
"Our initial assessment of the amount of football Marty would miss was based off the scans that the specialist had looked at.
"Marty got to go and see the face specialist today and the news from that appointment after closer inspection is that he'll need to miss four matches.
"There's obviously a risk with the location of the fracture and we'll be involving Marty in the training and running that he can do in the meantime."
Meanwhile, key forward James Stewart has taken a step forward in his recovery from a groin injury.
"James has had his first run back today and we'll be seeing how he pulls up from that and progressing him from there."
The VFL Dons will take on Geelong in a curtain raiser from 11:50am at the MCG on Sunday before senior Bombers face the Cats at 3:20pm.