Tuth Jok's late goal has helped Essendon VFL overcome a fast-finishing Werribee and secure a spot in next Sunday's preliminary final.
The Dons were two goals up at the last break, before the fast-finishing Tigers snatched the lead just six minutes in.
It was nearly a case of déjà vu for the Bombers, trailing by two points in its cut-throat semi-final, before finiding a way forward to record the 8.7 (55) to 7.10 (52) victory at Adcon Stadium.
Heavy rain early made clean possession hard to come by, as the game got off to a scrappy start.
Essendon's back six was crucial in repelling the early footy, but the Bombers couldn't capitalise on their own inside-50 entries.
Werribee was first on the board six minutes in, but part-time forward Michael Hartley was quick to respond via a set shot.
The Tigers then booted three of the next four goals to leave Essendon chasing an 11-point margin at the first break.
The game turned on its head when skipper Aaron Heppell (18 disposals, four marks) and hard-working defender Jake Long combined on the scoreboard, giving the Bombers a narrow one-point lead.
ICYMI

: @7VFL pic.twitter.com/oZuU7KPDUF

— Essendon VFL (@essendonvfl) September 8, 2019
It was arguably Essendon's best quarter, bringing relentless pressure and using the corridor to quickly move the ball forward.
The Bombers managed to hold Werribee goalless in the process while adding three straight, highlighting their second-term efficiency in front of goal.
With the rain easing after half-time, it was game on again in a tight third term.
Vice-captain Heath Hocking put boot to ball in the goalsquare to give the Dons some breathing space, but it wasn't long before Werribee fired back.
The last quarter was as frantic as it could get, with both sides wanting to leave nothing on the park in the do-or-die clash.
The Tigers were composed enough to kick two unanswered goals and level the scores, but the Dons didn't give up.
Even when things looked grim, Essendon had trust and belief in its game plan, which eventually paid off when Jok sneaked home the last score of the match.
Jokky sends @essendonvfl to a prelim!

: @7VFL pic.twitter.com/QPPEB0gD02

— Essendon FC (@essendonfc) September 8, 2019
Werribee did have its chances however, finishing with 2.5 for the term.
The win was a team effort from the VFL Bombers, with all eight of their majors coming from individual goalkickers.
Prolific midfielder David Myers finished with 21 disposals and five tackles, while Mark Baguley (17, one goal), Trent Mynott (17, seven tackles) and Dylan Clarke (17, 11 tackles) were just as impactful.
Jordan Ridley (16 touches), Matt Dea and Brandon Zerk-Thatcher stood firm in defence, while Bruno Laguda and Dylan Landt ran rampant in the middle.
Senior coach Dan Jordan was immensely proud of his players' response to the challenge.
"I'm just really, really proud of them. They had their backs to the wall with Werribee throwing everything at them, but they stuck fat and got the job done which is what finals footy is all about.
"It doesn't matter how much you win by in finals – it's about being in front when the final siren goes."
WE LIVE ANOTHER WEEK!

ESS 8.7 55
WER 7.10 52 pic.twitter.com/b2Iz3C9C0e

— Essendon VFL (@essendonvfl) September 8, 2019
Jordan had "every confidence in the boys", and admitted he was fairly calm throughout the last quarter.
He was also impressed by how the Dons managed to turn things around after last weekend's qualifying-final heartbreak, looking forward to an upcoming preliminary final.
"I thought we showed good growth from last week, and hopefully we can continue that.
"Williamstown is a hard, contested side so there's a fair few things we'll focus on throughout the week but we'll just bring our best (footy) on Sunday."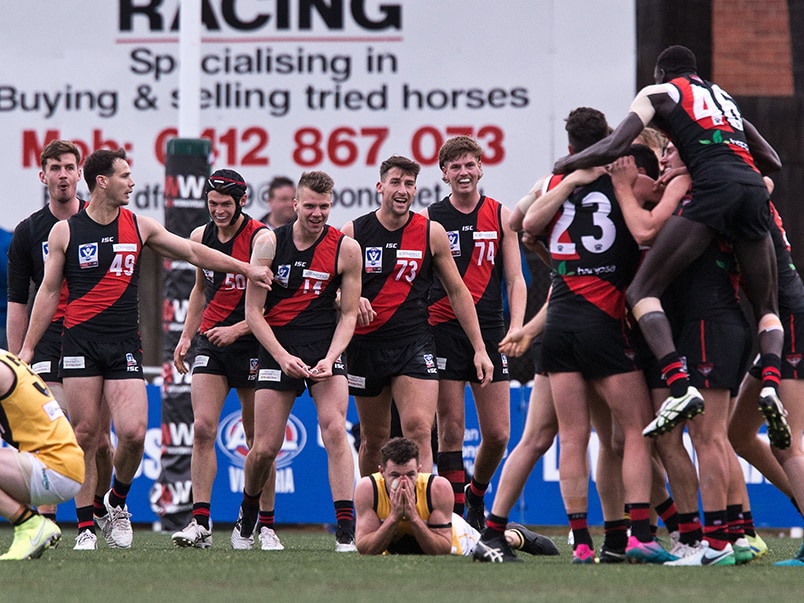 It took a team effort from the VFL Dons to get over the line in a nail-biter. (Photo: Ben Johnstone)
Essendon will meet Williamstown at 2:10pm on Sunday, September 15 at Adcon Stadium, with the winner to advance to the Grand Final against Richmond or Port Melbourne at Ikon Park on September 22.
Essendon 2.2 5.2 7.5 8.7 (55)
Werribee 4.1 4.3 5.5 7.10 (52)
Goals: Hartley, Baguley, Heppell, Long, Laguda, Hocking, Begley, Jok
Disposals: Myers 21, Heppell 18, Baguley, Clarke, Mynott, McNiece 17, Ridley 16