THIS time last year, Michael Long was resting at home in Darwin. There'd be no trip south to Melbourne to take part in his annual Long Walk and the Dreamtime at the 'G match between Essendon and Richmond, breaking a streak going back to 2005.
His excuse was valid: just weeks before, around Easter, the Bombers legend had flirted with death, having initially contracted a bacterial disease that occurs in tropical areas, before dealing with a serious post-surgery blood infection.
Long had been feeling poorly but it was dismissed as "man flu", until his wife Leslie – having suggested it might have been serious enough for a trip to hospital – finally got him to relent.
Long had a high fever and was admitted for observation. The next day, he phoned Leslie and asked her to collect him.
"I said, 'Oh no, no, no ... wait there. I'm coming over right now," she recalled earlier this month.
Leslie was well aware of the acute health risks many indigenous males face, especially as they age – and of Long's family health history – and suspected something more serious, having noted his symptoms included coughing, muscle soreness, fever and weight loss.
"I knew he had melioidosis," she said, referring to the disease found mostly in northern Australia and south-east Asia.
Tests showed Long also had a liver abscess requiring surgery. "[The doctors] were trying to perform a simple procedure, but it did not work as well as they think it did," Leslie said.
"We almost lost him on the operating table. Michaela (the Longs' daughter) and I were quietly waiting for him to return. I saw his face when he was wheeled in and I knew something was wrong."
Long needed intensive care to treat the blood infection and would stay in hospital for several weeks. "It was quite scary. Fortunately, he's still with us," she said.

Michael Long speaks at Essendon's cultural awareness session on Tuesday. (Photo: AFL Media)
A FULLY recovered Long is this week back in Melbourne, where he is being recognised by the AFL for his impact on and off the field as part of Sir Doug Nicholls Round.
On Monday, he helped launch the round in Thornbury in the city's north, at a sporting facility named after Nicholls, an indigenous football star, public servant and advocate for his people.
On Tuesday, Long was at his old club for a cultural gathering, and he'll fulfill a number of other commitments before, during and after Saturday night's marquee Tigers-Bombers match at the MCG.
At the Monday launch, Long was asked about Adam Goodes, or specifically a documentary that focuses on reactions to the booing the Sydney Swans champion received in his last few seasons (2014-15).
The film, to be released next month, is said to be confronting, and will likely make many in the footy industry feel uneasy, either about their own views or reactions, or those of people who continue to maintain important roles in the game.
"We're not going to shy away from it. It's good to have that discussion," Long said, referencing the code's ongoing challenges with racism.
We'll always walk beside you, Longy. pic.twitter.com/0RVSlx4J7W

— Essendon FC (@essendonfc) May 22, 2019
Some four months short of turning 50, Long remains one of the game's most intriguing figures – one of the country's, for that matter – a quietly spoken agent of change and action, a man prepared to make others uncomfortable for a greater good.
Born on the Tiwi Islands, he was raised in Darwin mainly by his dad Jack (a tough but fair man determined to teach his children about decency and arm them with a strong moral compass) and extended family members after his mum Agnes died from cancer before he had reached his teens. Both his parents were part of the Stolen Generations.
"I come from a family of nine. Mum died when I was about 11 or 12. But you've got to get on with life. My father never complained. He just got on with life. You know, whatever it throws at you, you never whinge," Long said.
Michael played his junior football for St Mary's in the NTFL before one season with West Torrens in the SANFL. But he was destined to be a star with one of the foundation clubs in the VFL, the country's biggest competition.
A shy and gentle soul who also can set a room ablaze with wicked banter and his unique sense of humour, Long first landed in Melbourne 30 years ago with prodigious natural talent guaranteed to dazzle. Few, however, would have predicted he'd become so much more than just a star footballer.
Long has a way of drawing and then uniting people. He did it first with his football, as an unparalleled artist who played 190 games for the Bombers from 1989-2001, mainly on the wing and sometimes forward.
He was the VFL rookie of the year in his debut season, won two premierships with the Bombers, was the first Aboriginal or Torres Strait Islander to captain an AFL club (in the expanded national competition; Graham 'Polly' Farmer led Geelong in the VFL in the 1960s), and was inducted into the Australian Football and AFLNT halls of fame. He also is a member of the Essendon, AFL Indigenous and AFLNT teams of the century.
Long was something else to watch; he was fast, elusive, tough and could take a mark. He bounced off players or spun around them. He coaxed the ball, throwing it metres in front of himself during his hypnotic runs, only for it to return gently back into his hands as he glided across the grass.
He used his head, hands, legs and heart with stunning synchronicity. In 1993, he won the Norm Smith Medal as the best player in the Grand Final. He played a unique style of football; it was a beautiful thing.
Long drew and united people with his bravery, this time in 1995, using the pain in his soul and his boiling blood to elevate the issue of on-field racial abuse during the first Essendon-Collingwood Anzac Day game.
He received hate mail and death threats after an incident involving Collingwood's Damian Monkhorst. Long's unequivocal stance about their altercation proved to be a turning point in the game's history. Soon after, the League adopted a groundbreaking racial vilification policy that sought to stamp out racism on-field by educating players, coaches, clubs, media, fans, and the broader community.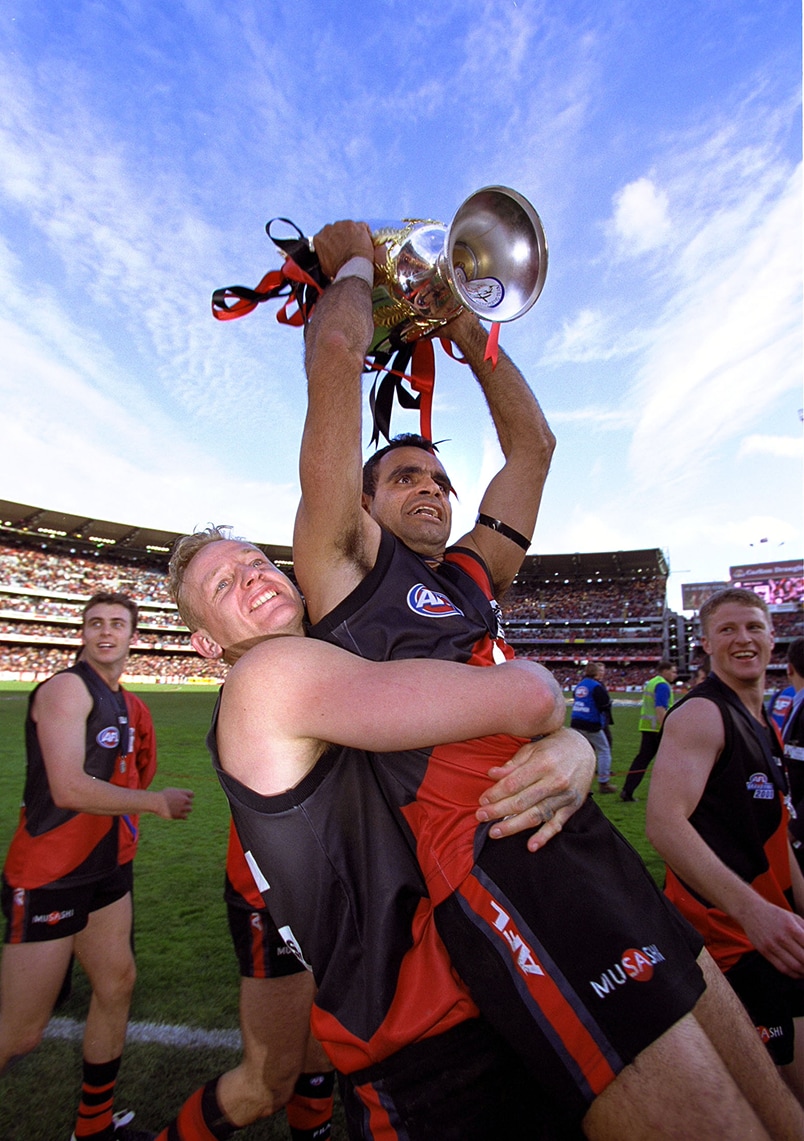 Michael Long celebrates the 2000 premiership. (Photo: AFL Media)
"Sometimes you can't measure what we do in society, but that's had a huge impact on Australia and Australian sport," said Long, who encountered his first racial taunt – from a complete stranger – while walking along an Adelaide street when he was 18.
Long is involved in a review of the policy, instigated by the AFL to reflect changes in society including the use of social media and other communication platforms. That the code continues to grapple with hatred and vitriol directed via Facebook, Twitter and other media at players – particularly its indigenous stars – underlines the need for a broader and more robust policy in line with the realities of modern life.
Long also drew and united people with his politics, as an activist who in late 2004 started walking from Melbourne to Canberra intent on meeting Prime Minister John Howard to share his concerns about the welfare of indigenous communities.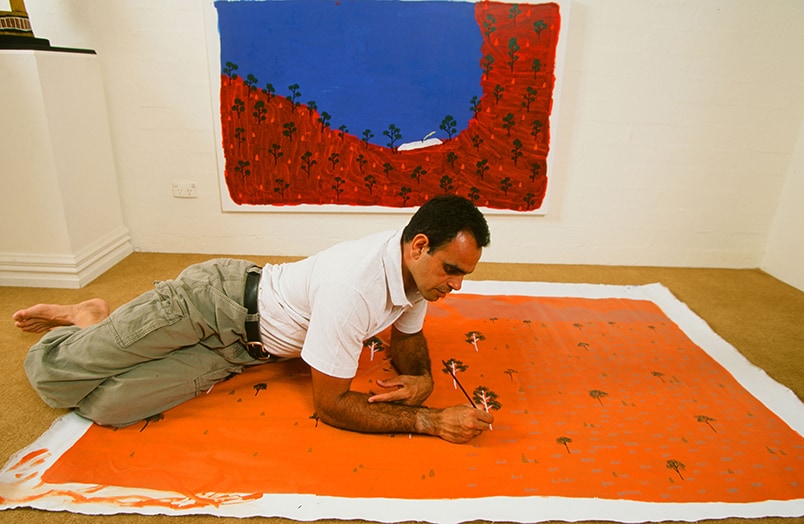 Michael Long the artist in 2000. (Photo: AFL Media)
He walked because he wanted to draw mainstream attention to serious business, fed up with the plight of his people and desperate to make a point about it. He was sick of people wasting away without support and seemingly without hope; he was distraught at having to attend funeral after funeral. He wanted action.
So he did something, in his own way. The impact was broad. People were talking. A Melbourne band, ColourFast, even wrote a song about his journey to the capital, and named its album Walk.
"I wanted to make a change. It was about challenging the government about some of the issues Aboriginal people were facing and still face – education, employment, health, housing, the Stolen Generations," Long said.
"Any type of (indigenous) leadership we had was being dismantled. Where was the love for Aboriginal people? Where was the vision? We can fly to the moon and we can do other things with science, but we can't fix what's happening in our own backyard.
"There were a lot of people who joined us along the way who came from different communities. That inspired me just as much because they were facing the same issues in their own communities."
Fifteen years on from his trek to Canberra, Long continues to make a difference. The Long Walk, held annually in Melbourne prior to the Dreamtime game (starting at Federation Square and ending at the MCG), draws thousands of people of all colours and creeds, helping generate debate about issues he knows are being addressed, but must not be forgotten.

Michael Long during his induction into the Australian Football Hall of Fame in 2007. (Photo: AFL Media)
And the Michael Long Leadership and Learning Centre in Darwin, which opened in 2015, focuses on engaging and educating young Indigenous children from the Northern Territory on site and in remote areas using football as a driver.
Long helped raise $7.5 million through his foundation to get the centre going, with matching contributions from local and federal governments. The centre's programs emphasise education, leadership, preparation for employment, life skills and good decision-making, health, nutrition, and the importance of routine and structure.
"We know the power of football and what it can do. Hopefully, this creates a pathway into wherever the kids want to go, whether it's working within their community, being a leader, or playing, coaching or umpiring football," he said.
Earlier this year, Long was a finalist in the Australian of the Year award, having been nominated for his work in the Top End. It was due recognition for a man who continues to make a significant contribution, in his own way: with vision, courage, humility, and because he knows it's simply the right thing to do.
"We all believe in something. We all know what's right or wrong. Sometimes you've got to step up. You've got to lead."