Essendon VFL senior Dan Jordan gives his thoughts on the 16 senior-listed players from the 94-point win over North Melbourne on Saturday.
Marty Gleeson
Stats: 18 disposals (12 kicks), six marks
From the coach: It was pretty much Marty's first full game. I thought his first half was pretty good - he seemed to be positioning himself well, got a few intercept marks and was working on his run and carry and being able to carry the ball out of the backline. He copped a knock at the start of the third quarter and fractured his cheekbone, which probably put him out of action for the rest of the day, but there were some really good signs before he got injured.
Aaron Francis
Stats: 17 disposals, five marks
From the coach: Aaron grew into the game – he positioned himself well and like Marty got some intercept marks particularly in the second half. His ball use was quite good in terms of being able to dissect the opposition defence and give us some really good aggressive ball movement.
Jayden Laverde
Stats: 19 disposals, six goals, eight marks
From the coach: Jayden had a good game forward - he obviously kicked six goals and found himself in good positions. He worked reasonably hard and was able to get on the end of a few and take some strong contested marks, and also be powerful at ground level. It was a really good game from him.
Josh Begley
Stats: 15 disposals (13 kicks), seven marks
From the coach: Josh played 75 minutes in his comeback from his ACL. His intensity was good; he was running on top of the ground, had some powerful ground-level contests and was strong over the ball. He kicked a couple of points so could've finished with a couple of goals, but he looked to be moving as well as ever after a 12-month layoff, which is pleasing.
Irving Mosquito
Stats: Nine disposals, four tackles, one goal
From the coach: 'Mozzie' was in and out of the game. When he had brilliant moments he kicked a nice goal, he took the opposition on and had some good pressure acts. (It's just a matter of) consistency for him to be able to do that repeatedly, but he's a really exciting player for us.
Mozzie burns the corridor

Full highlights » https://t.co/UPSNns4zP6

— Essendon FC (@essendonfc) April 23, 2019
Jordan Houlahan
Stats: 13 disposals, six marks, two goals
From the coach: I thought Jordan's game was good - quite consistent. He worked hard through the forward and wing roles, and seemed to cover the ground pretty well. When he was on the wing, he gave us some good drive and laid some good tackles. Up forward, he was a good target, kept presenting, and finished with a few goals. It was a pretty solid game from him.
Brandon Zerk-Thatcher
Stats: Six disposals, five marks
From the coach: This was Brandon's first week back from three weeks off after an ankle injury so he was just finding his feet and growing into the game. He had a defensive role on some pretty handy North Melbourne forwards and didn't have a lot of impact in terms of the ball, but as the game wore on his positioning got better and he grew into the game defensively.
Noah Gown
Stats: Seven disposals, three goals
From the coach: I thought Noah's game as a key forward was really good - he presented and contested really well. He competed hard at ground level and continued to move and provide us options. He finished with three goals and didn't have a lot in terms of possessions but took some really big grabs and showed some really good signs, which is form he will be able to build on moving forward.
Jake Long
Stats: 16 disposals, five tackles
From the coach: This was Longy's first game back from a shoulder injury after about a month out. He tried to be aggressive with the ball in terms of his run and carry and also gave us some shape. He was another one that as the game wore on, he became more confident and grew into it, which often happens after an injury layoff. He'll hopefully continue building on that next week.
Michael Hartley
Stats: 16 disposals (14 kicks)
From the coach: 'Harts' played as our key defensive post and was switching between Nick Larkey and Tom Campbell, both of who were key players for North Melbourne. He played his role reasonably well, took a couple of intercept marks and also competed well. He used the ball well coming out of defence, and as far as one of our key position defenders I thought he was solid.
Dylan Clarke
Stats: 20 disposals, one goal, nine tackles
From the coach: 'Clarkey' played predominately inside and I thought some of his work was really good. His repeat efforts, follow-ups, and getting first hands on the ball were really good. He didn't have a big game in terms of stats but he had a person running with him in the first half, which is probably a credit to how he's rated around the competition. He worked through that and had a good impact on the game, and even finished with a nice goal, which I know is something he's been working on.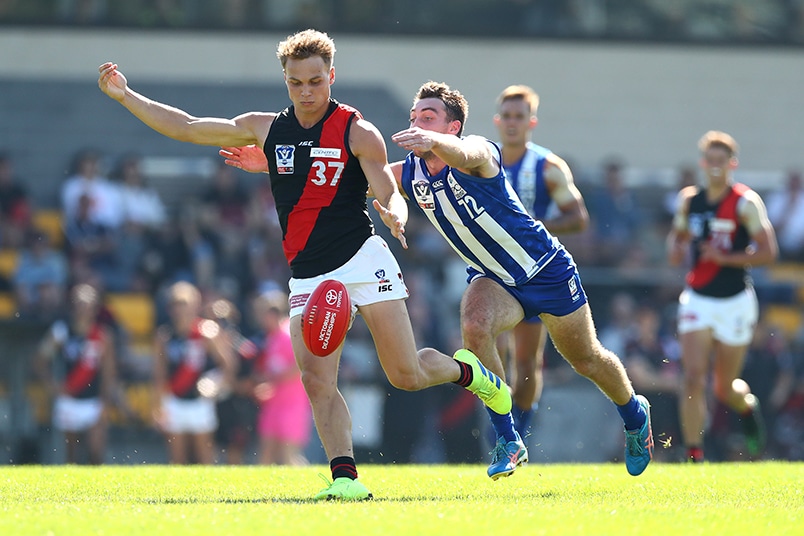 Dylan Clarke continued his strong VFL form on Saturday. (Photo: AFL Media)
Sam Draper
Stats: 21 hit-outs, 12 disposals
From the coach: It was a good hit-out for 'Drapes' against Tom Campbell who is an AFL-quality ruck, and I thought those two went head-to-head in a pretty even battle to be honest. He (Draper) was getting first use and competing hard down the line and was really solid for us. (The experience) will hold him in good stead moving forward.
Trent Mynott
Stats: 26 disposals, two goals
From the coach: I thought Trent was arguably our best on-baller for the day. He was clean, looked composed and used the ball really well. He got out of the stoppages and transitioned well, and then got on the end of a few and kicked a couple of goals. It was a pretty complete game from a midfielder.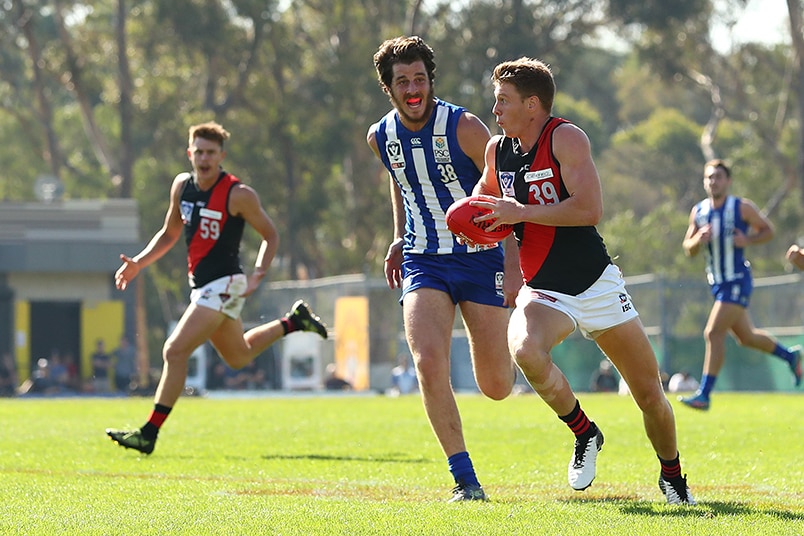 It was a complete performance from Trent Mynott against North Melbourne. (Photo: AFL Media)
Ben McNiece
Stats: 12 disposals, four marks
From the coach: Benny's first half in particular was outstanding – he was one of our best defenders. He made great decisions and defended really well. He didn't give his man an inch and was great in setting up our back six structurally. It was good signs from Benny and he was back to where I envisaged him playing last year. If he keeps this sort of form up, he'll probably press for AFL selection now that he's been upgraded.
Tom Jok
Stats: 13 disposals, four tackles
From the coach: It was a bit of a different role for 'Jokky' – he still played his wing role but also spent a few minutes in the ruck with us not having another key forward down there. He covered the ground well and really used his ability to transition. He didn't get a high number of possessions but he played his role and contributed and that's all we ask of him. In terms of a different role he took that on board and was happy to do what was best for the side.
Matt Dea
Stats: 14 disposals (10 kicks)
From the coach: It was Matty's first day back for the year so he probably thought he was going to be a bit rusty, but he got himself into good positions and communicated really well. He also seemed to seamlessly fit into the back six and play his role – he played on both tall and small opponents and competed really hard. It was a pleasing return from injury for him.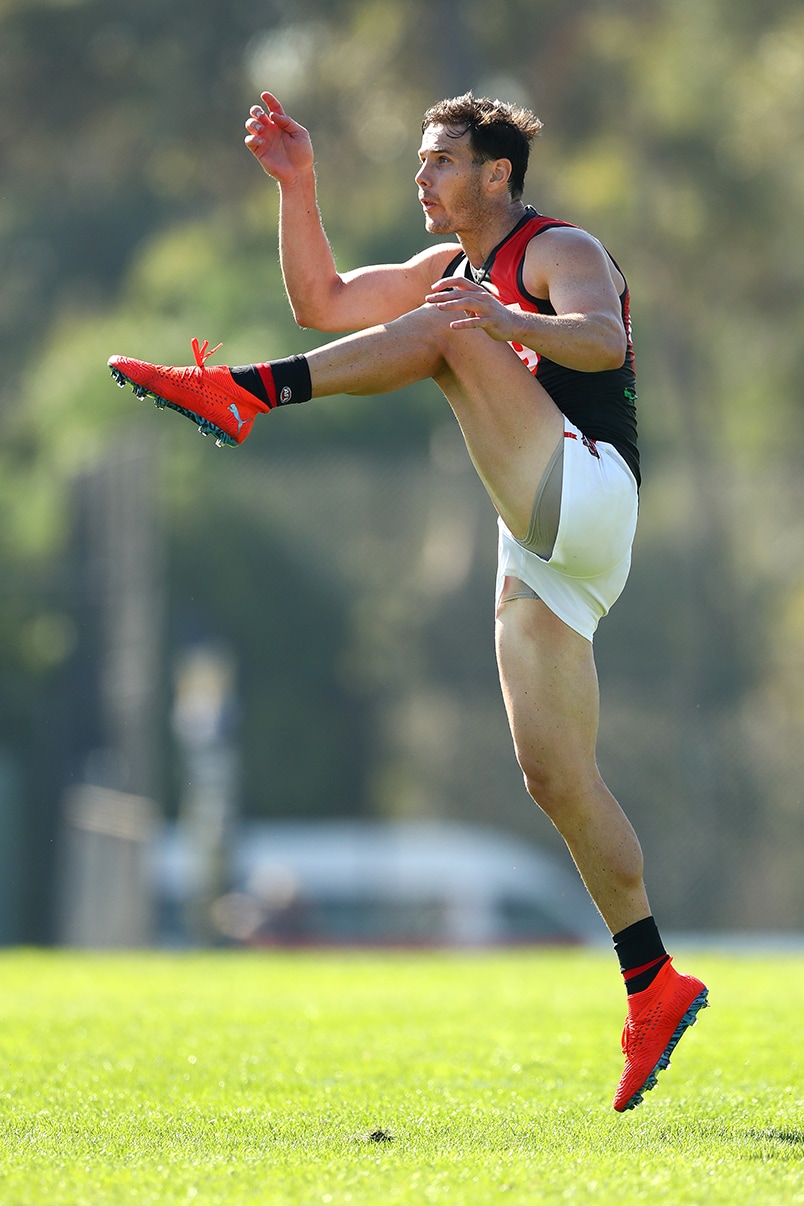 Matt Dea got through unscathed in his return from injury. (Photo: AFL Media)
Brooke Varney is in the final year of her Bachelor of Communications (Journalism) degree at RMIT University. As part of their strategic partnership, Essendon Football Club and RMIT University are committed to providing opportunities for students, staff, players and the wider community.