Key defender Michael Hartley says a four-quarter effort is crucial when playing finals footy, which the VFL Dons learnt the hard way on Saturday against Richmond.
Essendon VFL led by 40 points at three-quarter time in their qualifying final at the Swinburne Centre, before conceding seven of the next eight goals to allow Richmond the win.
It was a disappointing result considering how well the group had played leading into the fourth quarter, but Hartley believes there is a lot the Bombers can take into Sunday's semi-final against Werribee.
"We had a fair crack. I thought our first three quarters were probably the best we've played for a fair while, but that last quarter just let us down a bit," Hartley said.
"Maybe we thought we had it on the scoreboard, but (Richmond) played pretty well in the last quarter which made it a bit tough so we'll learn from that and go again (this) weekend."
Essendon executed its game plan to perfection early, with good numbers around the ball putting pressure on Richmond's midfielders and cutting off the supply inside 50.
The Dons slotted four unanswered majors in the opener, before putting together a five-goal-to-two second term to give themselves a handy buffer.
The scoreboard was a reflection of their effort and work-rate, with everyone playing their roles selflessly and to the best of their ability.
For Hartley, this included spending some time in the ruck and up forward, recording 11 hitouts, seven marks and three goals despite being somewhat out of his comfort zone.
"I haven't played much forward and I haven't played too much in the ruck, so I was just going in there, having a crack, and trying to bring it down for the boys.
"I just did my best, but everyone else was good too which is what we're all about."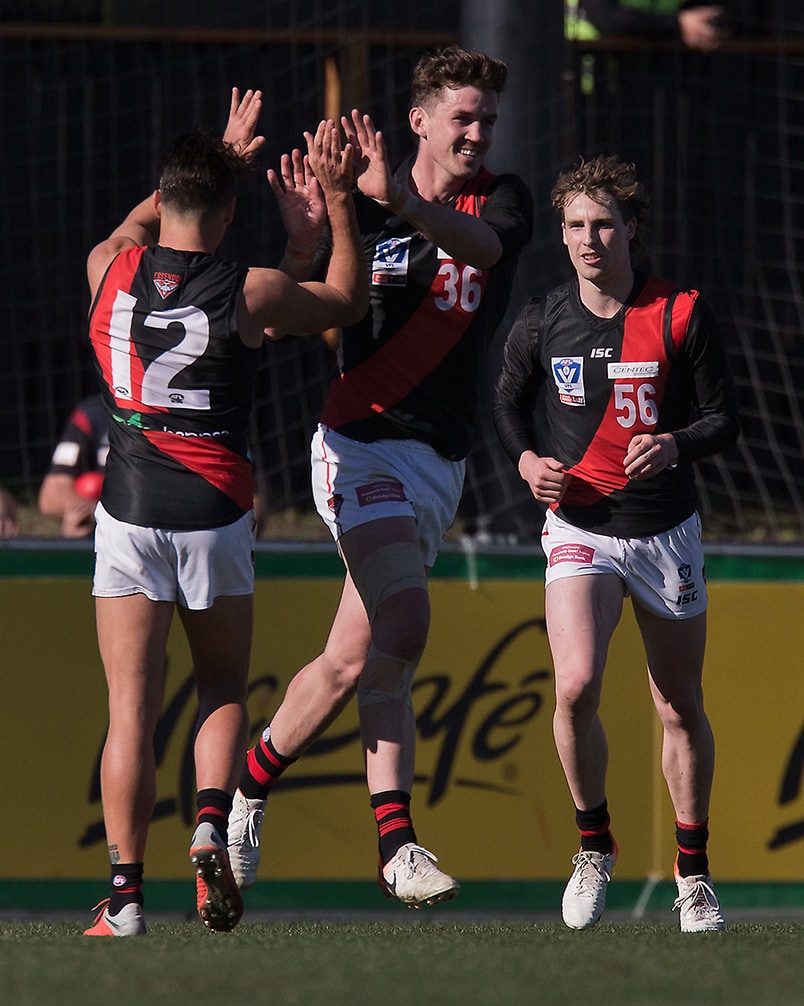 Michael Hartley celebrates one of his three goals against the Tigers. (Photo: Ben Johnstone)
While he said it was disappointing the group couldn't sustain the early ferocity, he hopes that can change when it faces Werribee.
"It was pretty fierce early on, and generally throughout the match, but that's probably finals footy which we were expecting.
"We brought the heat early, but unfortunately couldn't finish off. If we can bring that heat for four quarters, then anything is possible."
Essendon VFL will face Werribee in a semi-final from 2:10pm on Sunday, September 8 at Adcon Stadium, Port Melbourne.
Click here for more information and tickets.