Essendon VFLW vice-captain Hayley Bullas has achieved a long-cherished dream, signing with West Coast's inaugural 2020 AFLW team.  
The 23-year-old is among seven players selected from the Eagles' Female Academy to don blue and gold next season.    
The Bombers' inaugural VFLW best and fairest was informed of the news a few weeks ago - a due reward for years of persistence.
"I had a meeting with Adam Selwood and my parents, and they basically told me they (West Coast) were going to offer me a two-year contract," Bullas said.    
"It's pretty surreal. I don't think it hit me straight away. It's only really hit me now that it's all come out, I was just so excited.
"I knew all the hard work was to come, getting to that point was the easy part and now I have to work hard, get as fit as I can and get ready for 2020."   
After being overlooked in last year's AFLW draft, Bullas made it her goal to make the most of her chances in the VFLW.  
Following impressive performances on the track with West Coast's Female Academy earlier this year, she instantly caught the eyes of the club's recruiters.
"In March this year, I went across to Perth and did two weeks of their 10-week academy," she said.     
"They were only pre-signing seven girls from the academy, and I was one of them, which was super lucky, and I am so grateful.   
"I didn't need to prove myself to anyone, it was more about proving to myself that I would make it eventually."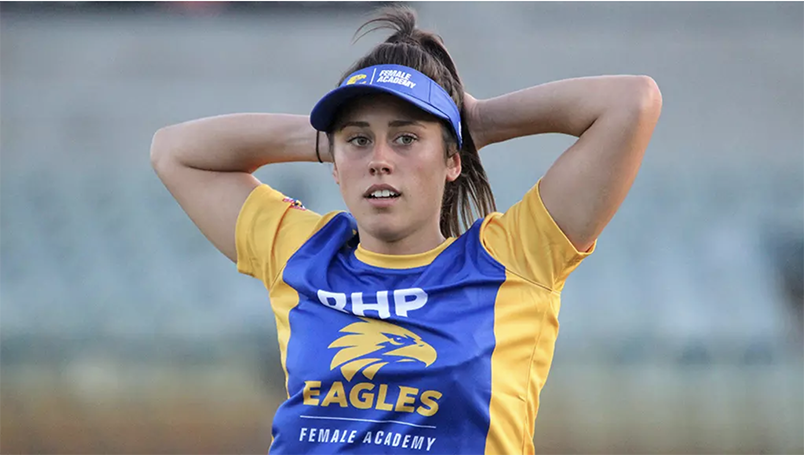 Bullas on the track with West Coast's Female Academy. (Photo: westcoasteagles.com.au)
Bullas spent her last two seasons with the Bombers as a consistent, standout performer, establishing herself as one of the competition's most versatile midfielders.  
In that time, she claimed her side's highest individual honour and was also named in last year's VFLW Team of the Year.
A natural ball-winner with great athletic ability, she averaged 16 disposals and seven tackles from six games in 2019.
"I am so grateful to Essendon for believing in me to get to this point," she said.
"That was a huge turning point, coming to a club that supported me and gave me the opportunity to thrive.  
"I've put in the hard work on my end and they (Essendon) have given me everything else in return."  
But, when a knee injury struck in round seven, a stint on the sidelines threatened to derail Bullas' chances of AFLW selection. 
"After my injury, I was disappointed that I was going to miss out on the remainder of the season with the girls," she said.      
"There was part of me that thought this might restrict my chances of being signed, but I had hoped that I'd be able to come back out and be ready for AFLW pre-season."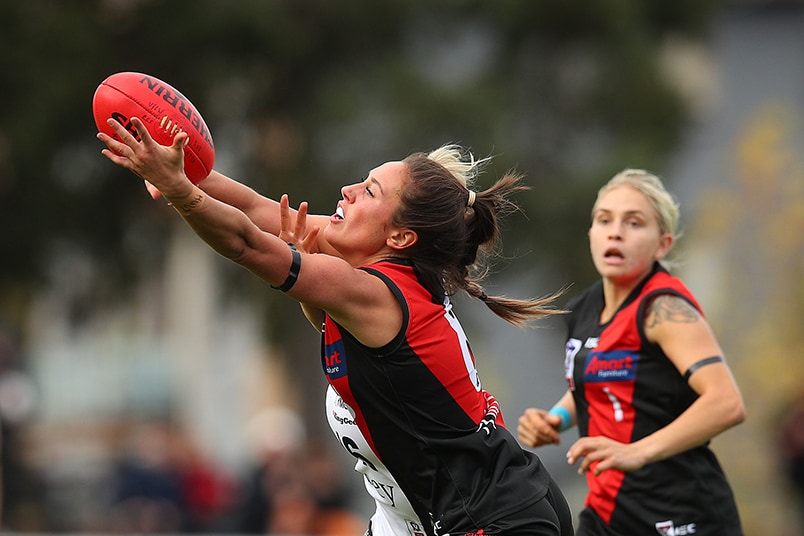 Bullas in action during one of her six games this season. (Photo: AFL Photos)
VFLW Bombers senior coach Brendan Major said he was incredibly proud of Bullas' achievements over the past two seasons.   
"Hayley has put in two really good years of solid work and she has excelled in the program," Major said.  
"She came in with the right attitude, great leadership and she has developed into the player that she is now.   
"And I think that speaks to the professional that Hayley is, to put herself out there and perform the way she has."
Major said Bullas had shown great potential and was "more than prepared" to compete at the highest level.   
"I'm just so happy for her," he said.
"We're designing our program to try and let people like Hayley thrive in it, so it's great that we could help her on that journey.   
"I think coaches get too much credit sometimes, so I'm just happy that we were able to support Hayley and she's really driven her own career." 
After reviewing her injuries, Bullas was given the green light to commence training with the senior AFLW side.  
She said she was looking forward to pre-season and her career at West Coast.  
"Settling in is going to be one of the biggest things for me because I'm not from Perth," she said.
"But West Coast gave me this opportunity because they believe in me, so I am very grateful for that.  
"Forming those relationships with the girls is important to me, and everything else will come with hard work, so I just want to enjoy myself."
Bullas will make the move from Melbourne to Perth in time for the start of pre-season training.
Victoria Raptis is in the final year of her Bachelor of Communications (Journalism) degree at RMIT University. As part of their strategic partnership, Essendon Football Club and RMIT University are committed to providing opportunities for students, staff, players and the wider community.