Essendon captain Dyson Heppell says the Bombers owe their fans following the side's 104-point thumping at the hands of the Western Bulldogs on Saturday.
The Dons booted the first goal of the game within 20 seconds of the opening bounce before conceding 21 goals in a row in a bitterly disappointing performance.
Heppell said he feels for the club's passionate fans following the heavy loss and he reinforced his team's need to stick together with the season still well and truly alive.
"We've got to own that performance. It was a very, very disappointing night overall and we really didn't come to play tonight," Heppell said after the defeat.
"I'm feeling for our fans, I think we owe them one off that performance and I'm extremely disappointed.
"It's not the way we want to play, not what we stand for and it's moments like these where we've really got to galvanise and stick together.
"We can either listen to the outside noise and succumb to all of that pressure or we bury deep, we stick together and we take our lessons from this.
"Over 20 weeks we've built ourselves into a position where we're a chance to make finals, absolutely still in the frame for that. We can't sulk and mope about this, but we really have to own it – everyone as individuals."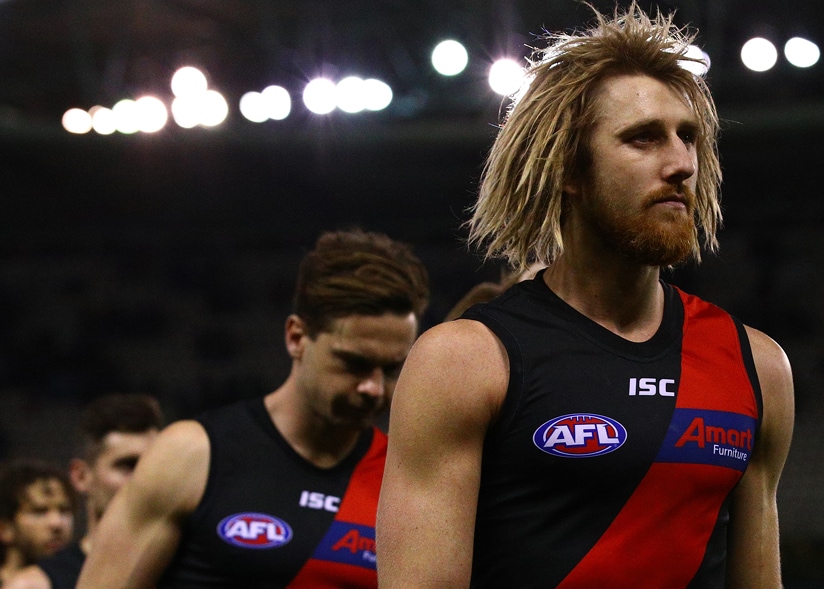 Heppell leads the side off the field following the heavy loss on Saturday. (Image: AFL Photos)
Heppell said his role as captain, alongside the club's other leadership group members, is to ensure open and honest communication continues within the squad as the side reviews what went so wrong at Marvel Stadium.
"We need to reinforce that we can be a good side if we each play our role, play selfless footy and stay connected as a group.
"If we go insular and start worrying about your own performance, and you don't open up and talk to your teammates and stay energised, then that's what happens.
"It's so hard to put a finger (what went wrong) right now, but we'll have to have a good, hard look at the review throughout the week and have a good, firm look at it.
"You can't just brush over these ones, you really need to learn from it."
Heppell said the Bulldogs bullied the Bombers and he was right. They dominated the Dons across the ground, taking full control of the contest and finishing the game leading inside 50s 66 to 37, disposals 445 to 320, contested possessions 162 to 126 and still winning the tackle count 66 to 65.
But the skipper has faith that the side can steel itself and repay the fans by turning its form around ahead of a crucial contest against Fremantle next week.
"I've got trust in this group, I really do, and the guys are willing to put in the work. We need to make sure we come in with a great attitude this week," he said.
"Fair enough, we're going to cop it from the outside, but we'll own that, that's fine. They can say what they want, we'll just stay strong internally as a whole club - the whole club needs to own this one and see if we can turn it around.
"Our fans stick by us through thick and thin. We'll do everything we can to try and turn it around for them and put in our absolute best effort we can next week.
"It's a great opportunity for us to go to Freo, get out of Melbourne, stick together and see what we can do."
The clash with the Dockers is set to begin at 6:10pm (AWST) next Saturday.