Essendon VFL will play for a spot in the VFL Grand Final when it faces Williamstown on Sunday at Adcon Stadium.
A late Tuth Jok goal sealed a three-point victory over Werribee in last weekend's semi-final, which also snapped the Bombers' four-game losing streak.
Jokky sends @essendonvfl to a prelim!

: @7VFL pic.twitter.com/QPPEB0gD02

— Essendon FC (@essendonfc) September 8, 2019
If the Dons were to win on Sunday, it would be their first VFL/reserves Grand Final berth since 1999 when they defeated St Kilda by 57 points.
Williamstown returns to the action after a week off, having defeated an inaccurate Footscray by 13 points in the first qualifying final to advance to its ninth consecutive preliminary final.
From those nine prelims, the Seagulls have only progressed to the Grand Final twice; the first in 2011 after defeating Werribee, and more recently in 2015 after beating the Dons by two goals.
In last year's finals series, both sides were eliminated at the preliminary stage by slim margins (Essendon by eight points, Williamstown by one), and will certainly be looking to make it one step further when they meet on Sunday.
The two top-four sides last met at Downer Oval in round 17 of the home-and-away season, when the hosts recorded a three-goal triumph.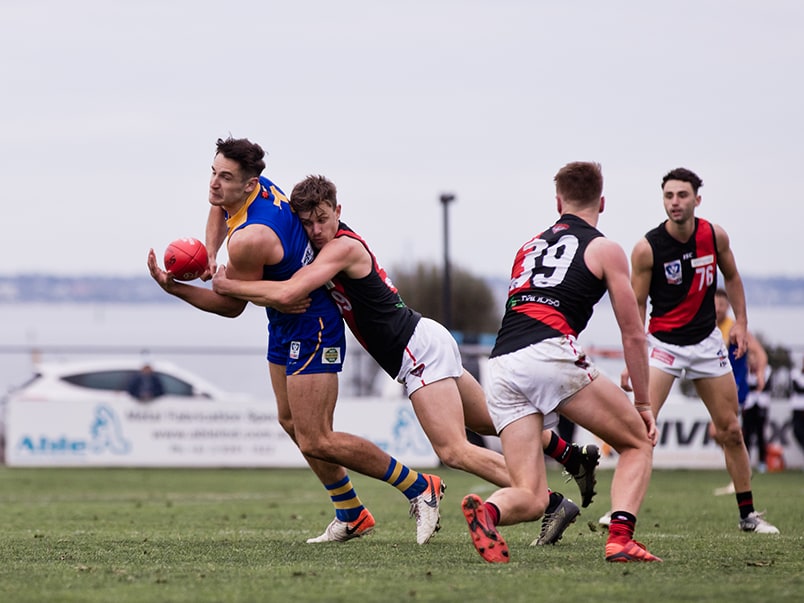 The Bombers fell short in their last clash with Williamstown. (Photo: Ben Johnstone)
Mark Baguley, Michael Hartley and vice-captain Heath Hocking all slotted two on the day, with Hocking also laying a game-high 13 tackles.
Senior-listed Dons Will Snelling and Brayden Ham will return to the line-up, both of which are expected to add immense pressure and speed.
The winner of this preliminary final will meet either Richmond or Port Melbourne in the Grand Final on Sunday, September 22 at Ikon Park.
Essendon VFL will live-tweet the match from 2:10pm, with the action to be televised live on Channel 7 and broadcasted on SEN 1116, Casey Radio and ABC Radio.
ESSENDON
Back: 49. M. Dea, 73. D. Guccione, 41. B. McNiece
Half-back: 46. T. Jok, 30. B. Zerk-Thatcher, 14. J. Ridley
Centre: 34. J. Long, 37. D. Clarke, 40. W. Snelling
Half-forward: 16. J. Begley, 36. M. Hartley, 33. B. Ham
Forward: 12. M. Baguley, 23. D. Myers, 24. J. Houlahan
Ruck: 39. T. Mynott, 77. H. Hocking, 55. D. Younan
Interchange: 75. K. Aylett, 68. N. Dixon, 59. A. Heppell, 76. B. Laguda, 56. D. Landt, 70. L. McKenna, 65. E. Sibbald, 50. J. Tynan
23rd player: 74. R. Bowman
WILLIAMSTOWN
Back: 17. J. Charleston, 21. J. Tippett, 32. N. Sing
Half-back: 11. J. Dorgan, 4. B. Myers, 18. J. Greiser
Centre: 25. L. Hunt, 7. M. Hibberd, 5. B. Monk
Half-forward: 37. N. Ebinger, 1. J. Pongracic, 2. B. Kennedy
Forward: 3. S. Dunell, 26. J. Thorpe, 22. J. Pickess
Ruck: 49. N. Meese, 24. W. Wheeler, 9. A. Marcon
Interchange: 6. S. Martyn, 10. L. Masters, 23. S. McLarty, 8. N. Mellington, 20. M. Norton, 34. J. Ottavi, 16. N. Rodda, 15. O. Tate
23rd player: 51. M. Philpot