Essendon VFL head coach Dan Jordan reviews the 11 senior-listed Dons who took part in Saturday's two-point qualifying final loss to Richmond.
Mark Baguley
Stats: 13 disposals, three marks, two tackles, two goals
From the coach: 'Bags' and his leadership were really good, and even his competitiveness in those big games – he finished with two goals including a brilliant one late that nearly pinched the game for us. He's very sacrificial in the role that he plays, and it's an important one for the side. He was quite influential around the contest.
Mark Baguley with ice in his veins ❄️

Unbelievably clutch. #VFL pic.twitter.com/prxwRIchS8

— 7VFL (@7VFL) August 31, 2019
Josh Begley
Stats: Two disposals, two tackles
From the coach: Josh had a quiet day by his own admission, but I didn't think his work-rate was down. It was more just one of those days where he couldn't get into the game. He played in that fat-side forward role which can be tricky to play, and can be sacrificial in terms of his output, but he needs to find other ways to get himself into the game. I know he's been disappointed in his game and has already learnt from that, so hopefully he comes out this weekend and has a really big one.
David Myers
Stats: 36 disposals (20 contested), three marks, five tackles, 12 inside 50s
From the coach: 'Myersy' was huge around the contest for us playing against a really high-quality midfield. He set a great example out there. Twenty contested possessions to go with his 36 disposals is an unbelievable effort from him. He gave us a lot of impetus going forward too with 12 inside 50s and 13 clearances, which is just a huge game from an inside mid.
Jordan Houlahan
Stats: Four disposals, five tackles
From the coach: 'Houlas' again probably didn't have the impact that he would've liked, but I thought he looked to be better covering the ground in terms of his running and being able to give us a target up forward. The important thing is even though he only had the four possessions, he laid five tackles and put some really good pressure on in our forward half which is what we asked of him. If he keeps that sort of intent up, then hopefully he'll see some possession and scoreboard reward.
Brandon Zerk-Thatcher
Stats: Eight disposals, four marks, four spoils, three rebound 50s
From the coach: Brandon played as our key-defensive post and was up against some pretty tall targets like (Toby) Nankervis, (Mabior) Chol and (Callum) Coleman-Jones. I thought he competed really well despite not finding a lot of the footy, but that wasn't his job – his job was to defend. He took four marks including a couple of crucial ones, and had a pretty solid game on some big targets.
Nice climb from Zerk-Thatcher!#VFL pic.twitter.com/KXZihzShMy

— 7VFL (@7VFL) August 31, 2019
Jake Long
Stats: 17 disposals, four marks, seven tackles, four clearances, five inside 50s
From the coach: I really liked 'Longy's' role – I thought he was strong in the contest and really brought his intensity. He laid seven tackles and also gave us some drive when finding himself around the ball with a couple of clearances. He also had five inside 50s so it was a really solid game.
Michael Hartley
Stats: 14 disposals (10 contested), seven marks, six tackles, six spoils, 11 hitouts, three goals
From the coach: 'Harts' had a bit of a different role going through the ruck and spending a bit of time up forward. I thought he gave us a bit of a focal point, and to finish with three goals is a good return. He probably won't play forward all the time, but it was good for him to get some experience in a big game like that and show his versatility. He took six contested marks as well which was a fantastic effort, and competed really well for us.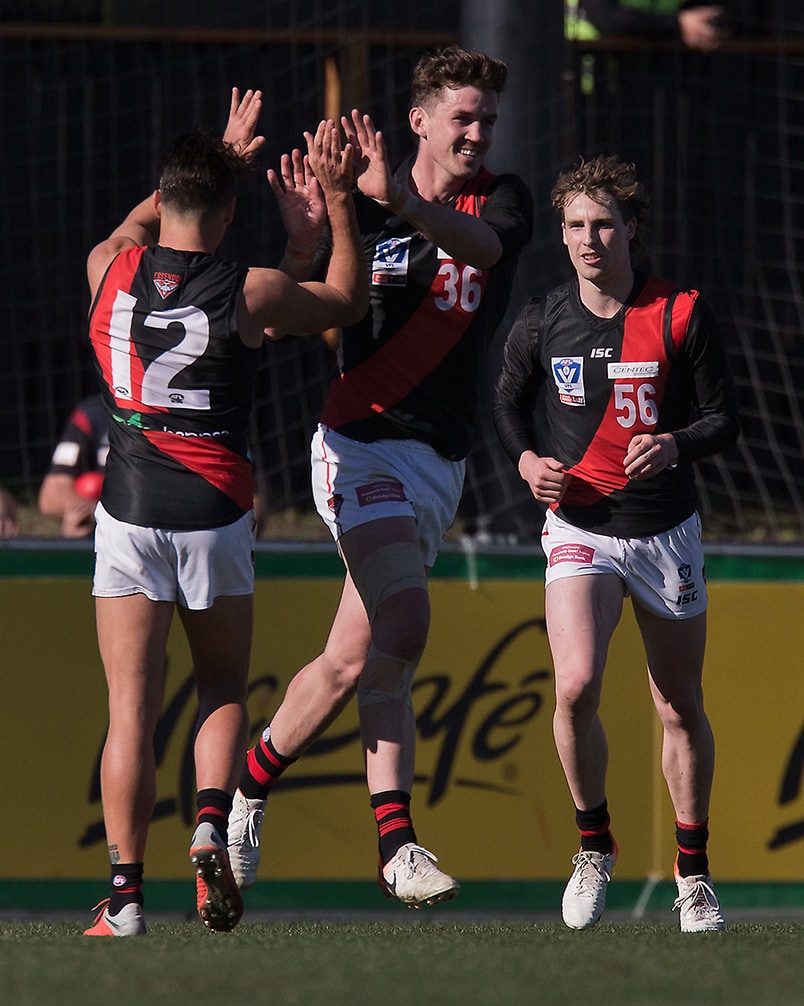 Hartley celebrates one of his three goals. (Photo: Ben Johnstone)
Trent Mynott
Stats: 20 disposals, six tackles, six clearances, three inside 50s
From the coach: Trent's first half in particular was really good. I thought he carried the ball well and looked to be breaking the lines a little bit, which he's probably been lacking a bit in his recent outings. Having said that he looked to be back and fresh, and was pretty influential in that first half. He died out of the game in the second half by his own admission, but there were some really encouraging signs from him going forward.
Will Snelling
Stats: 13 disposals, five tackles, two clearances
From the coach: Will just played the half, returning back from an injury. I thought he looked sharp and on top of his game. His speed looked to be there and when he got his hands on the footy he was clean. Thirteen possessions from a mid-forward is a really good return, particularly for someone who has just played a half in his first game back in five weeks.
Ben McNiece
Stats: 17 disposals, three tackles, four spoils, 12 rebound 50s
From the coach: Benny played on a few of Richmond's smaller forwards, and generally didn't really get beaten one-on-one. Even when their small forwards had an influence, it was usually on other players. He had 12 rebound 50s and mopped up a little bit in the back half, but most of all was pretty strong in the contest. As a small back he played a really good game.
Matt Dea
Stats: 15 disposals, five marks, three tackles, two inside 50s
From the coach: Another standard game from Matty. He tried to set up and instruct, and repelled a fair few attacks. He took five marks but was also good at ground level. He also had to play above his height at times, but competed really hard and that's what we've come to expect of him.