A 15-goal-to-one second half has helped Essendon VFL record an 85-point triumph over Sandringham at Windy Hill on Saturday.
With the scores tied at half-time, the VFL Dons put their foot on the gas, booting 10 unanswered goals in the third term to overrun the Zebras 20.5 (125) to 6.4 (40).
Essendon got off to a quick start with Noah Gown slotting his first just 30 seconds in, before consecutive majors to Josh Begley (24 disposals, four tackles) and Jordan Houlahan created an early three-goal buffer.
The VFL Dons' back six, including Ben McNiece (26 disposals, five marks) and Brandon Zerk-Thatcher, worked overtime to prevent the visitors from scoring until the 14-minute mark.
Both sides wrestled with each other for the remainder of the opener, with Essendon taking a 19-point lead into quarter-time.
Sandringham came out firing in the second, causing all sorts of chaos for the Dons who couldn't stop the Zebras from going forward.
The visitors kicked three unanswered goals late in the term, to draw level at 33 apiece at the main break.
The VFL Dons needed a big response, which they well and truly brought.
Three goals from both Gown and Tynan Smith (finishing with four goals each), plus a couple from Mark Baguley saw Essendon run rampant and blow the margin out to 60 points at the final break.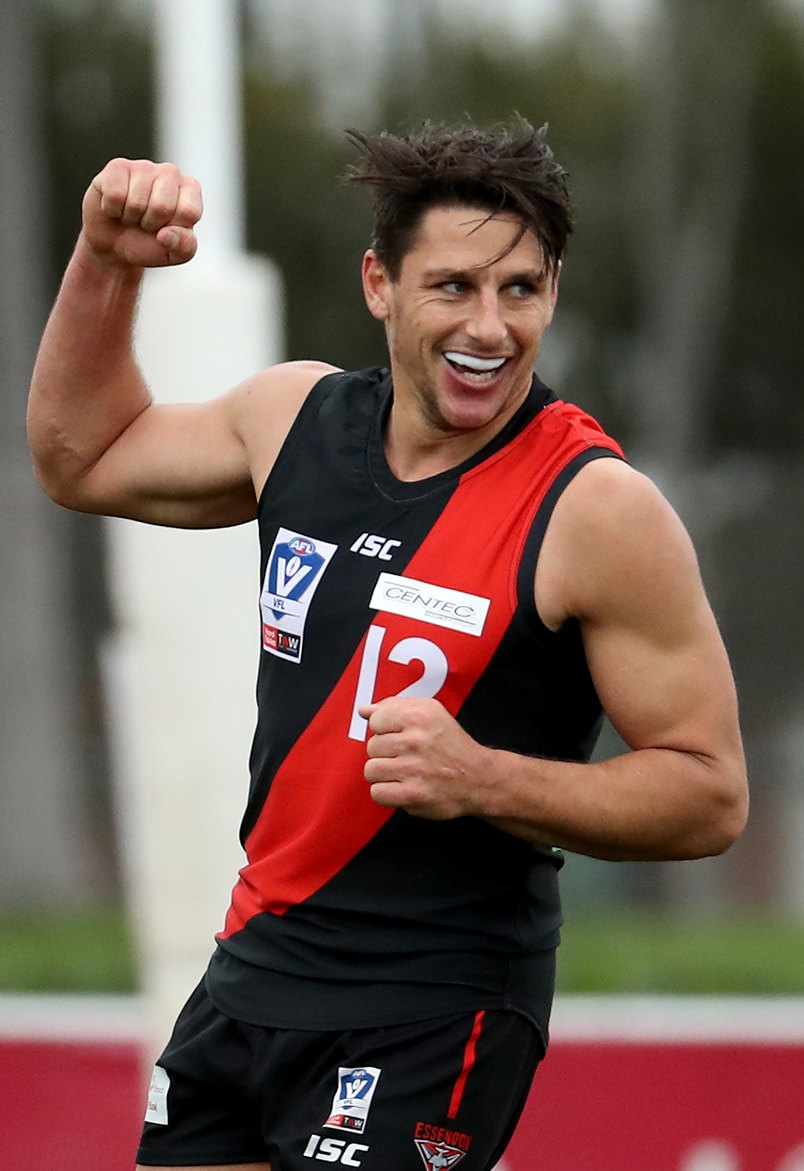 Baguley celebrates one of his three goals. (Photo: AFL Photos)
While adding the 10 unanswered goals in the third, the VFL Dons managed to hold Sandringham to just the one behind.
Essendon's momentum continued into the final term slotting 5.1 to the Zebras' 1.0, winning the inside-50 count 55 to 33 and recording 31 more disposals.
Brayden Ham (19 disposals, five marks) used his speed to his advantage throughout the centre, while Tom Jok (24 disposals) and Riley Bowman (16 disposals, 38 hit outs) battled hard in the ruck.
David Myers was prolific with 39 touches and three goals, while Jayden Laverde finished strong with two last-quarter goals.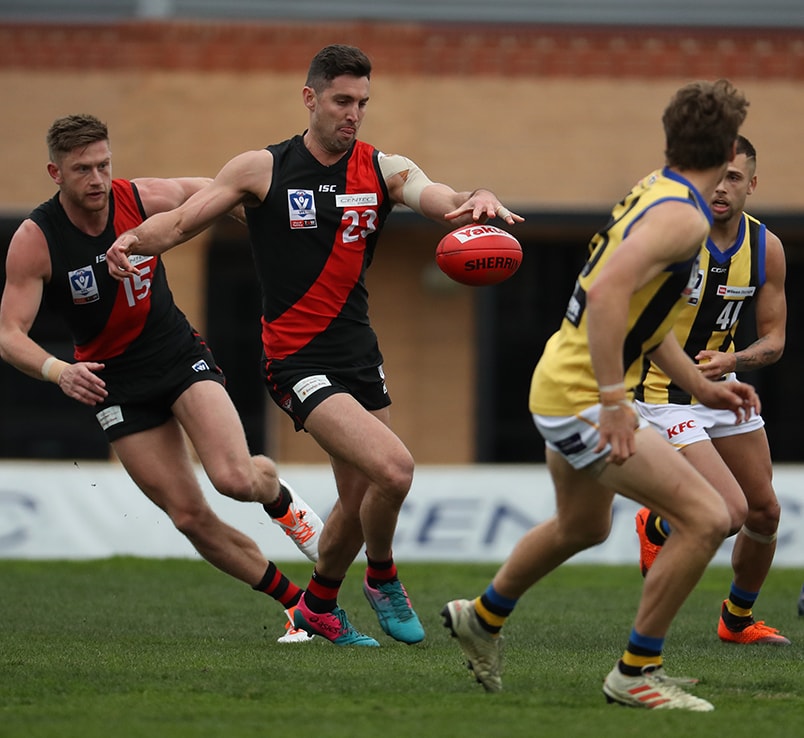 Myers produced a stellar performance against the Zebras. (Photo: AFL Photos)
The only sour note was losing Bruno Laguda (ankle) and Trent Mynott (ribs) after half-time as precautions, but the VFL Dons proved they were more than capable despite being two rotations down.
The 14-goal win moves them back into second spot on the ladder, with Richmond still two wins clear at the top.
Senior coach Dan Jordan was proud of the way his side responded in the second half.
"We had a real focus at half-time to get back to playing the way that we wanted to play, and to the boys' credit they were outstanding in that third quarter," Jordan said.
"It was unselfish, team-first football and that's exactly what we asked of them - there's no coincidence that we then got the result."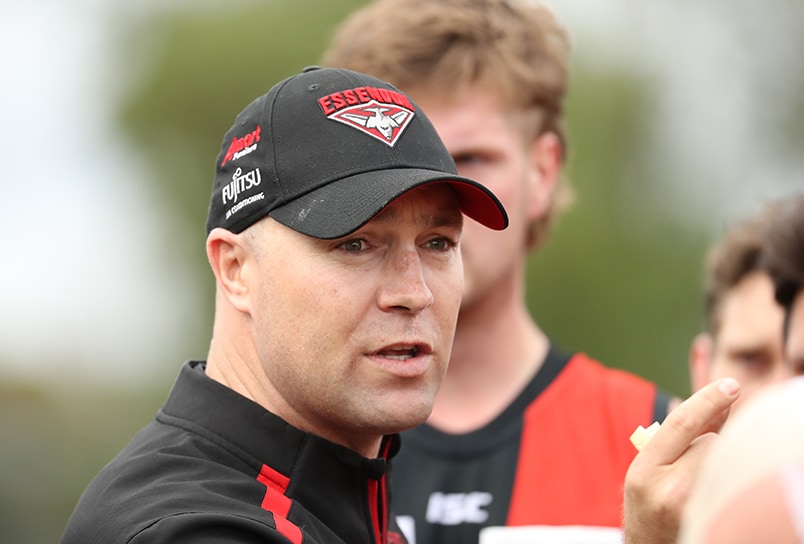 Jordan was full of praise for his charges post-game. (Photo: AFL Photos)
Jordan was also pleased with the even spread of goal-kickers, but credited the rest of the group for the way they used the footy.
"Our forwards presented well to give us some good options, but it was good to see the ball-carriers lower their eyes and reward guys who were (leading for it) which then reflects on the scoreboard."
Young forward Noah Gown also put the second-half surge down to a change in the way the group played, and attributed his own four-goal performance to the support around him.
"Throughout the second quarter we lost a bit of our structure, so (the response) mainly came from us playing our roles again and setting up well behind the footy," Gown said.
"I was happy with my impact, but when you have players like Jayden Laverde and Tynan Smith down there playing their role as well, it makes it a lot easier for me to do my job."
Essendon VFL will travel to Whitten Oval next weekend on Saturday, August 10, to take on fellow top-four side Footscray from 1pm.
Essendon 4.2 5.3 15.4 20.5 (125)
Sandringham 1.1 5.3 5.4 6.4 (40)
Goals: Gown, Smith 4, Baguley, Myers 3, Houlahan, Laverde 2, Begley, Heppell
Disposals: Myers 39, McNiece 26, Begley, Jok 24, Dixon 21
Brooke Varney is in the final year of her Bachelor of Communications (Journalism) degree at RMIT University. As part of their strategic partnership, Essendon Football Club and RMIT University are committed to providing opportunities for students, staff, players and the wider community.