Bombers defender Michael Hurley says it is important for the players to harness the emotion from the club's disappointing 11-point loss to St Kilda on Saturday will hurt.
In a game of two halves Essendon struggled to keep up with the enthusiastic Saints, but St Kilda failed to convert its opportunities and kept the Dons in the hunt at the main change.
And while the side's improved grit and determination in the second half kept the Bombers within striking distance, the costly first-half performance couldn't be overturned.
Effort and intent was identified as the key reason for last week's thrashing at the hands of Greater Western Sydney but it couldn't be blamed this time, and Hurley said the squad is finding it hard to put a finger on what is going wrong.
"The intent was a bit better than last week, but obviously we're still a fair way off the pace," Hurley said after the defeat.
"The stuff around the ball and just everything in general was a bit off again, so we're going to keep working and improving.
"It's sort of hard to know why you're playing (the way we are) out there.
"We'll have to review the game again, have a good look and nut out some of the behaviours that aren't helping us."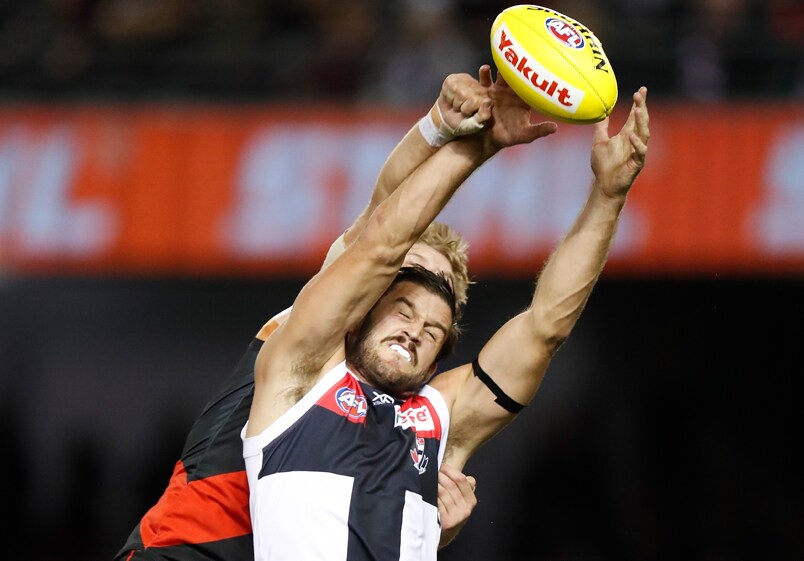 Hurley spoils the ball in a contest with Saint Josh Bruce at Marvel Stadium on Saturday.
After losing the contested possession count by 40 against the Giants, the fiery Bombers bounced back to lead the stat by 14 against the Saints.
Essendon also won the battle for total disposals, clearances and inside 50s, but skill errors let the side down.
"There's obviously a lot to work on; the ball going forward was poor, there was a bit of fumbling again, so there's a lot to improve on.
"It was better than last week, but again, we need to go to another level if we want to be in matches and win matches."
Hurley's efforts certainly couldn't be doubted as he repeatedly quashed St Kilda's attacks in an impressive display of strength and skill.
The 28-year-old took an enormous 14 marks and gathered 23 disposals, nine rebound 50s and six one-percenters, barely getting a rest and spending 96 per cent of the game on the ground.
Frustrated and upset with the result, he said acknowledging the pain from the game is crucial.
"It's going to hurt. Two losses in a row, it's not the ideal start to a season, so you have to take it all in.
"Again, we need to review it really closely and try and improve for next week."
The Bombers will step out against fellow winless side Melbourne at the MCG in what sets up to be an enormous clash on Friday night.
CLICK HERE TO RECEIVE THE WEEKLY BOMBER BULLETIN