At just 12 years old, Elise Muller was diagnosed with autism spectrum disorder.    
Unlike any of the other kids in her class, she spent her days wondering why she didn't fit in. 
Muller had no idea that she would come to benefit from – and struggle with – autism in ways she had never expected.                    
"Initially, when I found out about my diagnosis, I was quite relieved, because I knew my whole life that I was different and I finally had a reason why," Muller explained.
"There were things people could do naturally that I just didn't understand and found exhausting. 
"As I got older, I caught on that people were laughing at the things I was doing. It became something I was ashamed of. I felt trapped."
As a teenager, Muller was overwhelmed by the challenges of living with autism, bullied by her peers and excluded by her teachers for being "different".                        
Changing schools seven times, she learnt first-hand the detriments that come from a lack of understanding.
"I had a very hard time through my education, school was pretty much hell for me. 
"The world was scary to connect to and being odd made me a target to bullies at school.  
"I was slammed into lockers. They took advantage of me because I was naïve and I didn't really understand when people were joking around.         
"My teachers didn't really understand autism, they perceived me as the 'naughty kid' because they mistook my disobedience for me being a smart a***."
Struggling to cope, Muller withdrew herself from the world.           
The once-confident teenager was barely recognisable, struggling to make friends and suffering from anxiety as a result of her academic difficulties.                  
"I didn't see a future for myself because of my autism. 
"I felt extremely lonely and I just wanted a friend."
Fiercely determined to make her own way through her nightmare, Muller found her connection with autism through sport, where she now represents Essendon's VFLW team.                
"Sport became my connection to the world I had always felt separate from.     
"It became a way for me to disguise my autism. I was given the platform to be socially included and accepted and not be ashamed of what makes me different.        
"The earliest thing I can remember is feeling out of tune with my body. But for the first time, just kicking around a ball, I was in control of something connecting to the outer world."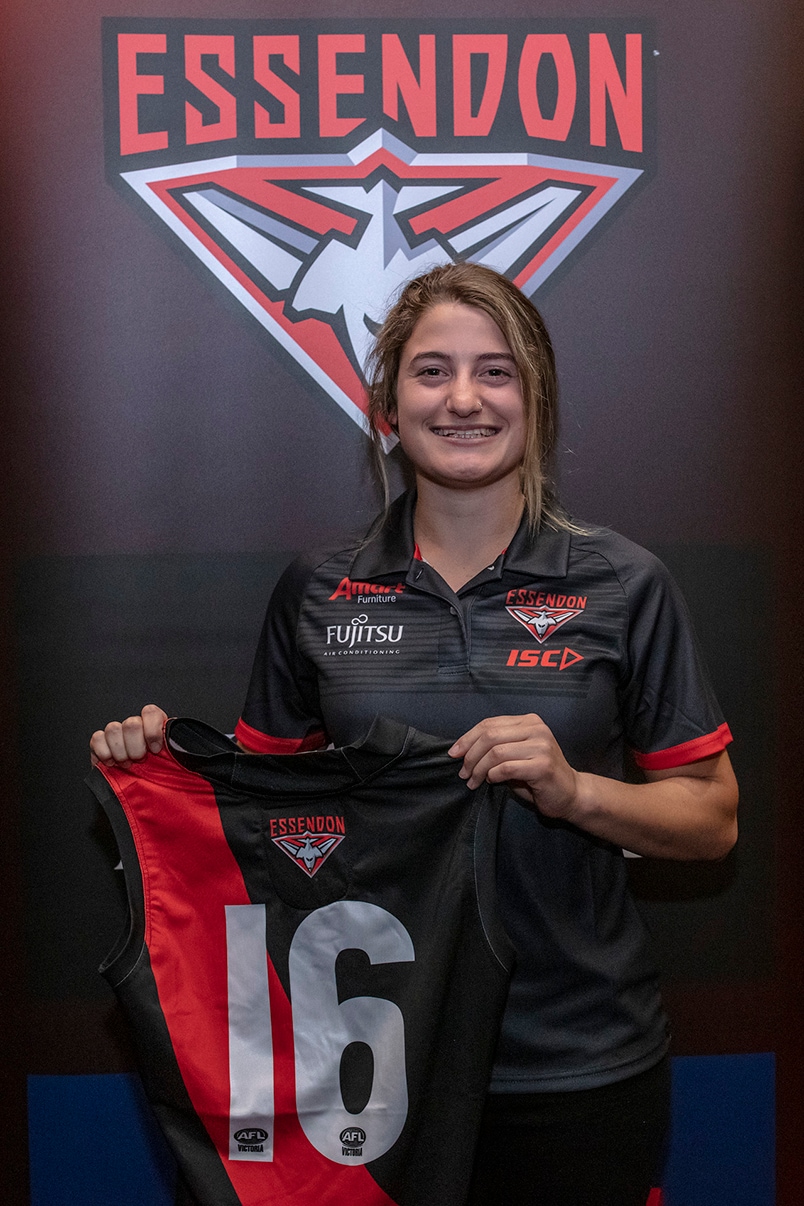 Muller is in her first season in the red and black. (Photo: Ben Johnstone)
While Muller the teenager struggled in the classroom, she was always a standout on the sporting field.    
She played representative soccer in the Victorian Women's Premier League and was selected for Melbourne Victory's Talented Player Program.                          
"I love soccer, it's probably my main sport and something that I became really, really good at early on.   
"But socially I didn't find soccer was an accepted environment."      
Despite being among the talented soccer players, Muller switched the round ball for a Sherrin at 18.            
The emerging midfielder spent the vast majority of her footy career with the TAC Youth Girls State Academy, representing the Western Jets and the Calder Cannons.  
Muller was also picked up by the Western Bulldogs' VFLW team, before landing a spot on Essendon's VFLW list this year.    
"The stereotypes say people with autism aren't good at sport, but this stigma fuelled me to take my footy practice to an elite level.  
"Essendon is a lot more flexible with allowing me to implement my own strategies.    
"They trust that I know how to self-manage (my autism) and they just really provide the space for me to do what needs to be done.  
"There's just an acceptance for diversity. It is not seen as different is less, it's seen as diversity is our team strength and it is welcomed, rather than seen as a burden."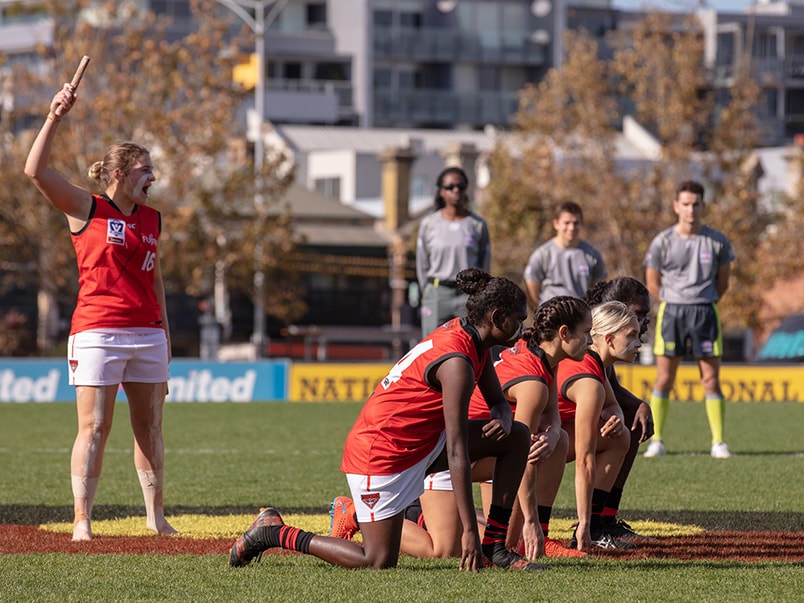 One of Essendon VFLW's five Indigenous players, Muller has lauded the environment at the Bombers. (Photo: Ben Johnstone)
Overcoming her struggles with anxiety, Muller wanted to change the way people perceived autism.    
Determined to make a difference at just 19, Muller founded her own social enterprise Active Support.
 "I have created my own business educating and inspiring schools, sport clubs and the community to include, embrace and utilise people with a difference.
"Our needs need to be supported so the world can utilise our strengths. I am different but different doesn't mean less.      
"Every birthday, I would wish to one day be able to 'buy a friend' so I could finally have someone to play with. This became my inspiration very early on.   
"I have created what I needed when I was growing up: someone who was like me and who accepted themselves. And now I've become that person I looked up to, who is on the spectrum and proud to be."    
An inspiration to all around her, Muller has been recognised nationally for her dedication to creating an understanding of inclusivity of autism and disabilities.     
The 22-year-old is one of three finalists for the Emerging Leader Award, to be presented at the Victorian Disability Awards ceremony on Wednesday, August 21.         
Muller says it is a "privilege" to be recognised as a leader for other young adults on the spectrum.        
"This is going to give me a platform to further advocate and get my message out, and I'm hoping that people who read my story identify with it and realise that it is possible to embrace your differences.    
"I have never suffered from being on the spectrum, I have only suffered from people not understanding my autism.   
"It's time to embrace people with autism. It's time to create an inclusive place for people with a disability in sport and schools.       
"Together, we can change the world."
Victoria Raptis is in the final year of her Bachelor of Communications (Journalism) degree at RMIT University. As part of their strategic partnership, Essendon Football Club and RMIT University are committed to providing opportunities for students, staff, players and the wider community.